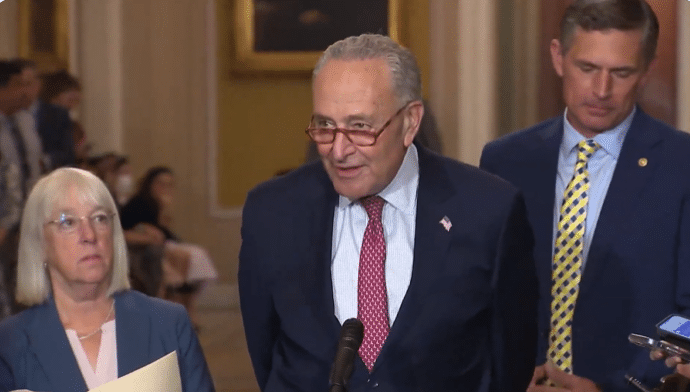 On Tuesday, Senate Majority Leader Chuck Schumer, who voted to convict President Trump in his impeachment proceedings, lost it and lashed out at Speaker McCarthy, ironically accusing him of leading a "witch hunt" by launching an impeachment inquiry against Joe Biden.
Earlier on Tuesday, Speaker McCarthy announced that he is directing House committees to open a formal impeachment inquiry into Joe Biden.
"I am directing our House committees to open a formal impeachment inquiry into President Joe Biden. Over the past several months, House Republicans have uncovered serious and credible allegations into President Biden's conduct—a culture of corruption," McCarthy said.
In his statement, McCarthy detailed accusations of "abuse of power, obstruction, and corruption" against Biden.
"Through our investigations, we have found that President Biden did lie to the American people about his own knowledge of his family's foreign business dealings. Eyewitnesses have testified that the president joined on multiple phone calls and had multiple interactions, dinners resulted in cars and millions of dollars into his sons and his son's business partners," McCarthy said.
Schumer wasted no time voting to convict Trump during Pelosi's rushed impeachment proceedings against him, but he's now throwing a tantrum.
"I think the impeachment inquiry is absurd. The American people want us to do something that will make their lives better, not go off on these chases and, uh, witch hunts," Schumer remarked.
He further stated, "The bottom line is, as we have said, you can only accomplish keeping the government open in a bipartisan way."
Watch:
Chuck Schumer unironically says an impeachment inquiry into Biden is "absurd" and a "witch hunt" pic.twitter.com/OedNJpRgBa

— RNC Research (@RNCResearch) September 12, 2023
Later in the day, Matt Gaetz blasted McCarthy in a speech on the House floor, accusing him of breaking promises. Gaetz gave McCarthy an ultimatum to comply or "face a motion to vacate" his chair.
Gaetz began his speech by referencing the historic House Speaker election in January, saying, "Mr. Speaker, you are out of compliance with the agreement that allowed you to assume this role." He proceeded to criticize McCarthy for failing to facilitate votes on topics such as term limits and balanced budgets and for not releasing the complete January 6th footage. Gaetz also voiced his exasperation with the lack of action regarding the "Biden crime family."
He didn't hold back, asserting, "Joe Biden deserves impeachment for converting the vice presidency into an ATM machine for virtually his entire family." While acknowledging McCarthy's recent support for an impeachment inquiry, Gaetz argued that it was merely a "baby step" and that the House must move faster.
Watch:
On this very floor in January, the whole world witnessed a historic contest for House Speaker.

I rise today to serve notice. Mr. Speaker, you are out of compliance with the agreement that allowed you to assume this role. The path forward for the House of Representatives is to… pic.twitter.com/1IFsrmT8KK

— Rep. Matt Gaetz (@RepMattGaetz) September 12, 2023