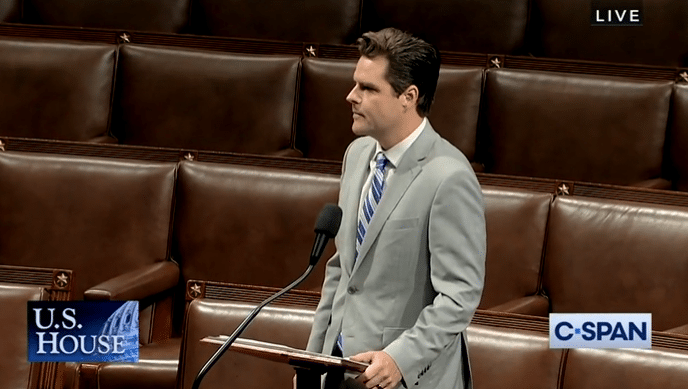 Following the decision to approve the Biden impeachment, Speaker McCarthy continues to grapple with immense pressures, particularly from within his own party, most notably Rep. Matt Gaetz.
Earlier reports indicated that Gaetz had issued threats to oust McCarthy from his position as Speaker of the House, even reaching out to Democrats for support in this effort.
The insinuation was that unless McCarthy opened an impeachment inquiry into Joe Biden, his Speaker role could be jeopardized.
Despite directing lawmakers to open an impeachment inquiry into Biden on Tuesday, Gaetz continued to press for McCarthy's removal unless he followed through on his numerous promises made to Republicans.
Gaetz began his speech by referencing the historic House Speaker election in January, saying, "Mr. Speaker, you are out of compliance with the agreement that allowed you to assume this role." He proceeded to criticize McCarthy for failing to facilitate votes on topics such as term limits and balanced budgets and for not releasing the complete January 6th footage. Gaetz also voiced his exasperation with the lack of action regarding the "Biden crime family."
He didn't hold back, asserting, "Joe Biden deserves impeachment for converting the vice presidency into an ATM machine for virtually his entire family." While acknowledging McCarthy's recent support for an impeachment inquiry, Gaetz argued that it was merely a "baby step" and that the House must move faster.
Watch:
On this very floor in January, the whole world witnessed a historic contest for House Speaker.

I rise today to serve notice. Mr. Speaker, you are out of compliance with the agreement that allowed you to assume this role. The path forward for the House of Representatives is to… pic.twitter.com/1IFsrmT8KK

— Rep. Matt Gaetz (@RepMattGaetz) September 12, 2023