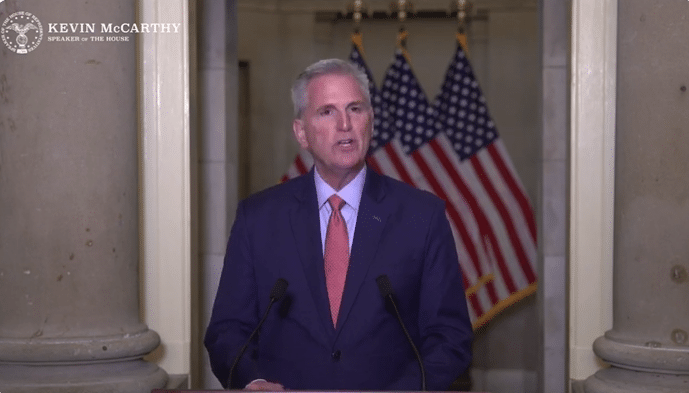 On Tuesday, House Speaker Kevin McCarthy announced that he has formally approved an impeachment inquiry into Joe Biden.
Fox News reported on Tuesday that Kevin McCarthy would inform the House GOP this week that launching an impeachment inquiry against Joe Biden is "the logical next step."
Fox News reported:
The House GOP conference plans to hold a meeting on Thursday morning for key committee chairs to lay out their latest findings and the status of the investigations into the Biden family. House Judiciary Committee Chairman Rep. Jim Jordan, R-Ohio, and House Oversight Committee Chairman Rep. James Comer, R-Ky., are expected to lead Thursday's meeting.

At the meeting, McCarthy is expected to say an impeachment inquiry is the "logical next step" for the Republican majority. An inquiry is the first step of the impeachment process, where evidence is gathered for the articles, or charges, of impeachment against an official.
At the Capitol on Tuesday, McCarthy gave a statement detailing accusations of "abuse of power, obstruction, and corruption" against Biden. He declared that Republicans would begin a formal impeachment inquiry into Joe Biden.
"Through our investigations, we have found that President Biden did lie to the American people about his own knowledge of his family's foreign business dealings. Eyewitnesses have testified that the president joined on multiple phone calls and had multiple interactions, dinners resulted in cars and millions of dollars into his sons and his son's business partners," McCarthy said.
Watch:
I am directing our House committees to open a formal impeachment inquiry into President Joe Biden. Over the past several months, House Republicans have uncovered serious and credible allegations into President Biden's conduct—a culture of corruption. https://t.co/3uoDlUB3Sy

— Kevin McCarthy (@SpeakerMcCarthy) September 12, 2023