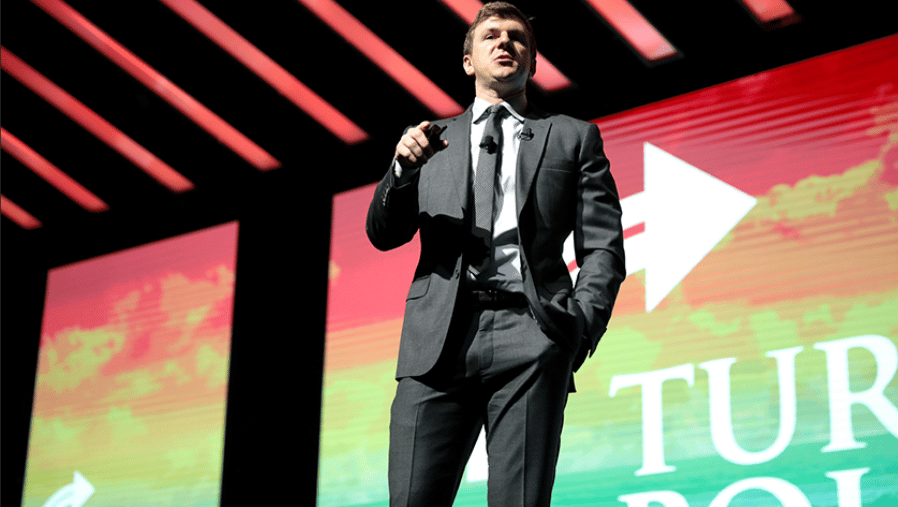 James O'Keefe has been removed from his position at Project Veritas.
Early reports indicated that O'Keefe resigned, but those reports were incorrect. O'Keefe posted a video on Twitter, with a caption that read: "I need to make clear I have not resigned from the company, Project Veritas, I founded 13 years ago. I was stripped of my position as CEO and Chairman. I came to the PV office today to remove my personal belongings."
Watch James O'Keefe tell his side of the story below:
"@JamesOKeefeIII, my friend and former boss at @Project_Veritas, just read his resignation letter to his former team and board members at their Mamaroneck, N.Y. headquarters. James will make his own way—as he always has before," said OANN Correspondent Neil McCabe.
"This is not accurate. James was removed from his position as CEO by the Project Veritas board. They are in charge now," said Project Veritas' R.C. Maxwell.
O'Keefe's removal follows the recent news that Project Veritas board members placed O'Keefe, the company's founder and CEO, on paid leave, while the board considered whether to remove him from his leadership position.
The decision to place him on paid leave came shortly after Project Veritas released a bombshell undercover video, exposing Pfizer Director of Research and Development – Strategic Operations, Jordon Trishton Walker, revealing that Pfizer is exploring mutating COVID-19 to continually profit off vaccines.
Over a dozen Project Veritas employees claimed O'Keefe was difficult to work for, partly leading to the dispute with board members.
Twitter users showed their support for the Project Veritas founder.
The Post Millennial reported:
After the 16 staffers sent the letter to the Project Veritas board of directors in early February, "James O'Keefe IS Project Veritas" began to trend on Twitter. Many supporters and donors all balked at the idea that Veritas could continue without O'Keefe at the helm and prominent conservatives gave their support for O'Keefe.

"The undersigned is troubled and frustrated with James' management style and business acumen," the letter began. "These behaviors and actions are antithetical to our core values, and it came to a head this week. Most recently, the treatment of Barry Hinckley and Tom O'Hara."

In the letter, the 16 staffers, are listed as Michael Villani, Eric Spracklen, Mario Balaban, Jake Mantel, Patrick Van Duyne, Sal Gueli Journalists: Arden Young, Preston Scagnelli, Bobby Harr (Lithium), Bethany Rolando, Joanne Sumner, Gillian Pietrowski, Jonathan Bailey, Joshua Hughes, Nick Mehaj, and Angelo Martinez, say that "James has become a power-drunk tyrant and he is exactly who he pontificates on who we should be exposing."
Shortly after O'Keefe was placed on paid leave, a letter was sent to the Project Veritas Board of Directors, from a law firm that claimed to represent a large group of significant Project Veritas donors.
The donors demanded James O'Keefe be reinstated as as CEO of the organization.
Project Veritas' Executive Director Daniel Strack last Wednesday released a statement on James O'Keefe's status with the organization.
"Through a Project Veritas spokesman, Strack later released a statement on behalf of the organization. "Like all newsrooms at this stage, the Project Veritas Board of Directors and Management are constantly evaluating what the best path forward is for the organization," the statement read in part." New York Mag reported last week.
Daniel Strack released an update after public outrage over what appeared to be an attempt to oust James O'Keefe from the organization he founded.
"A few weeks ago, a number of our staff members provided leadership with some verbal feedback describing real management concerns regarding the treatment of people and our internal process," the statement read.
"This prompted the board to solicit feedback from additional staff members, and that internal letter was leaked. The narrative that is being portrayed by referencing this letter is patently false. James has not been removed from Project Veritas. Nowhere in that letter was there ever a suggestion to remove James from the organization."