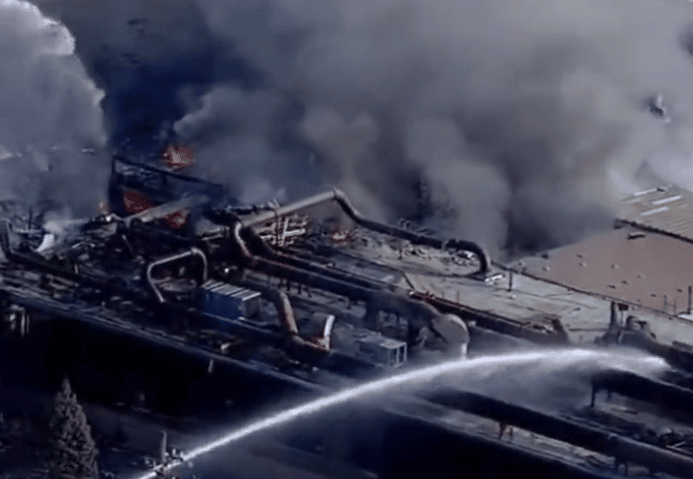 Multiple victims are reported to have suffered burns after a massive explosion rocked a metal alloy plant in Bedford, Ohio.
The incident has been declared a 'Mass Casualty Incident'.
The explosion occurred at the I Schumann & Co. metal alloy plant Monday afternoon.
The incident comes just two weeks after a chemical explosion ravaged the town of East Palestine… also in Ohio.
WKYC reported:
Multiple area crews are responding to an explosion that took place at an Oakwood Village manufacturing plant Monday afternoon.

Witnesses say the explosion occurred at the I Schumann & Co. metal and paint plant on Alexander Road, causing a fire at the location. At least 13 injuries have been reported, and 3News has learned help was requested from fire departments across Greater Cleveland and Akron.

Photos also shared to WKYC show smoke billowing to the sky, with the cloud visible for miles. The blast was apparently so great that pieces from the plant landed at Northern Haserot directly across the street.

Of the 13 people taken to the hospital, Oakwood Fire Capt. Brian DiRocco says "several" suffered burn injuries and at least one is in critical condition. 3News has confirmed MetroHealth Medical Center is treating multiple victims, and University Hospitals Ahuja Medical Center in Beachwood tells us they are treating seven additional patients.
Watch:
The Daily Mail also reported the incident:
Ambulances were pictured on the scene of 1 Schumann & Co., which makes brass and bronze alloys. It remains unclear what caused the explosion at around 2.30pm Monday and how many people were injured.

Emergency services have also requested the development of several medical helicopters.

The explosion in Bedford, Ohio is located just about 70 miles northwest of East Palestine, where a toxic train derailed on February 3. It is just south of Cleveland.

Witnesses told local News 5 that there were two explosions, a small one followed by a larger one around 2.30pm.

The brick wall of the building was completely blown away, with bricks hitting cars and businesses nearby. Debris was also blown across the street.
The incident is being reported as a "mass casualty incident," however, it is unclear how many people have died.