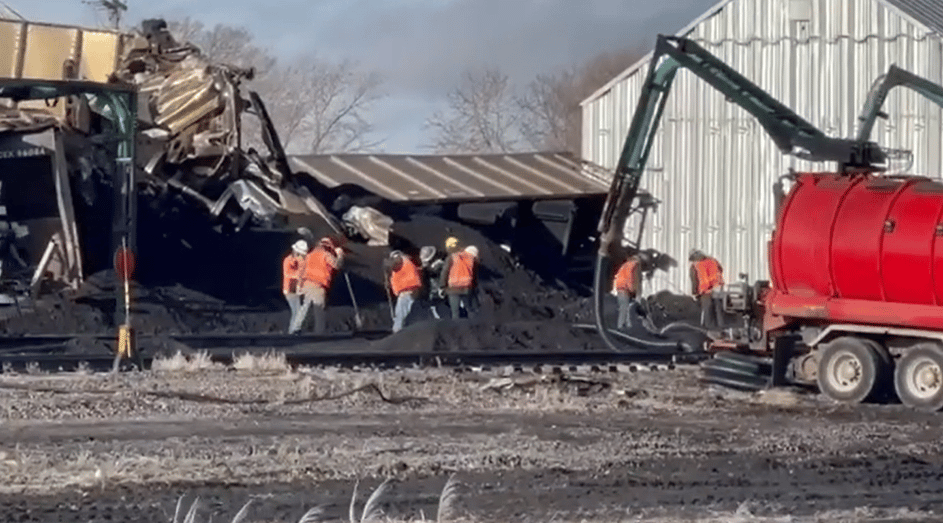 We can't seem to keep our locomotives on the railroad tracks here in America.
There has been another train derailment in the United States… this time in Nebraska.
It's hard not to feel like the American Heartland is under attack at this point.
This morning, law enforcement and a Hazmat team responded to a Union Pacific coal train derailment east of Gothenburg, Nebraska.
"Around 12 train cars are off the track this is the third derailment at the same location within the past 6 months," according to Rawsalerts.
"Around 1:45 a.m., approximately 31 Union Pacific train cars carrying coal derailed three miles southeast of Gothenburg," KNOP reported.
There were no reported injuries from the incident.
From KNOP:
A UP spokesperson said one of the three mainline tracks near the derailment site reopened to train traffic around 8 a.m.

The cause of the derailment is under investigation.

In May 2022, News 2 reported on the derailment of a Union Pacific train carrying coal southeast of Gothenburg.
Gothenburg, Nebraska has reportedly experienced multiple derailments at the same spot within a year.
Yesterday, Ohio had another train derailment in Delphos.
A recent train derailment occurred in Van Buren Township, Michigan. One of the cars was carrying hazardous materials.
Daily Mail reported on the recent spate of train derailments that continue across the United States.
The spate of catastrophic train derailments across the US heartland has continued after another train left its tracks in Gothenburg, Nebraska.

Emergency hazmat crews rushed to the scene following the derailment, which reportedly occurred overnight on the eastern edge of the town.

The latest train derailment comes after several other similar incidents occurred in recent weeks, including a devastating accident in East Palestine, Ohio that caused the town to be evacuated after it was damaged by a toxic waste runoff.

The East Palestine derailment was among more than a dozen train wrecks that have been reported across the US since the start of the year.

Around a dozen train cars were seen off the track following the overnight derailing in Gothenburg, around 50 miles from the Nebraska state capital of Lincoln.

Law enforcement and a hazmat team were on the scene as authorities deal with yet another derailment on the nation's railways.

Crews with the Union Pacific Railroad were also on the scene Tuesday morning to attempt the cleanup.

A witness told KNOP that the wreck was the third derailment in the exact spot in the last six months due to a broken rail.
Watch: