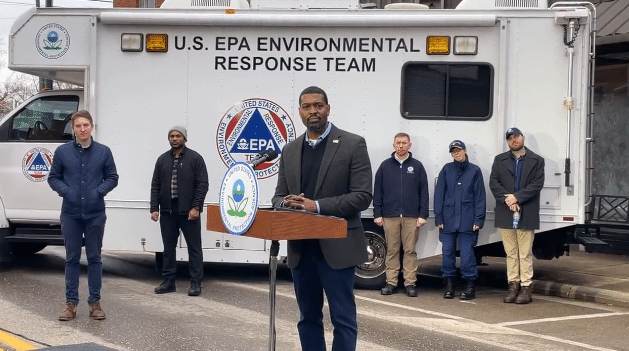 During a press conference regarding East Palestine, Ohio, an EPA Director told reporters that he would not let his children anywhere close to any streams in the area, which contradicts what the agency said earlier: That the water was safe to drink and the air safe to breathe.
New reports claim that the fallout from the toxic event could be headed toward Indiana next.
Here's what the EPA Director had to say when asked by a reporter if he would allow his children close to the streams in East Palestine, Ohio:
Residents of East Palestine and independent journalists are sharing the truth of what it's like after the train derailment that led to a large release of toxic chemicals.
From FOX News:
Environmental Protection Agency administrator Michael Regan issued a warning to the children of East Palestine, Ohio, on Tuesday in the aftermath of the train derailment and controlled release. 

"I'm a father of a 9-year-old. I think we have to all agree that we wish this accident didn't occur. The accident occurred and as a result, some of our creeks and our streams have pollution in them. We're working very hard to clean up that pollution for the time being while the pollution is present," Regan told reporters during a visit to East Palestine Tuesday. "As a father, I would not advise anybody, adult or child, play in the creeks or stream. What we've said is the drinking water has been tested."

Regan announced the opening of an EPA community welcome center North Market Street in East Palestine, where residents and business owners can stop in to get questions answered, sign up for air home monitoring and learn more about offered cleaning services.