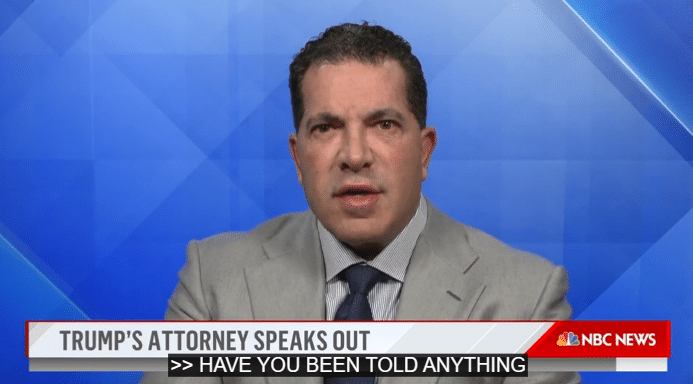 Attorney Joe Tacopina, one of President Trump's lawyers, joined Savannah Guthrie to discuss his indictment.
Trump has been accused of paying porn star Stormy Daniels, AKA, Stephanie Clifford, "hush payments" through his then-attorney – convicted perjurer Michael Cohen – to silence her and stop the story about their alleged affair from being published in the National Enquirer.
The payments made to Stormy Daniels did not come from Trump's 2016 presidential campaign, there was no tax deduction taken and there was no obligation to file it with the FEC, according to Joe Tacopina.
The Manhattan grand jury voted to indict Trump anyway.
Guthrie asked Tacopina if he or President Trump have considered taking a plea deal.
The left would love that!
"Zero! Zero!" Tacopina said. "President Trump will not take a plea deal in this case."
Watch:
Tacopina also said that this case will have "wide-reaching ramifications" and that he feels "very concerned about the rule of law in this country".
Watch:
Tacopina said Trump will not be put in handcuffs but that he thinks Bragg's office will "try to get some joy out of parading" Trump.
He also said that Trump is not backing down and is "ready to fight."
Daily Mail reported:
Donald Trump was 'initially shocked' by the grand jury indictment handed down against him last night but is now 'ready to fight' and be 'combative', one of his lawyers has revealed.

Trump, 76, will be arraigned in Manhattan at 2.15pm on Tuesday on an array of business fraud charges relating to 2016 hush money payments to porn star Stormy Daniels.

He has denied any wrongdoing, and says he is the victim of a politically-motivated witch hunt led by the famously Democratic Manhattan District Attorney Alvin Bragg.

…

Attorney Joe Tacopina said on Friday morning that Trump will not be put in handcuffs when he is in New York, and that Secret Service will not allow the arraignment to become a 'circus'.
Newsmax reported:
The lawyer for Donald Trump said the former president will not be put in handcuffs when he is formally charged in New York and will not accept any plea after an unprecedented indictment by a Manhattan grand jury Thursday.

Asked during a Friday interview on ABC News' "Good Morning America," whether there will be handcuffs, a mugshot or a perp walk, Joe Tacopina said: "I'm sure they [prosecutors] will try to get every ounce of publicity they can out of this thing.