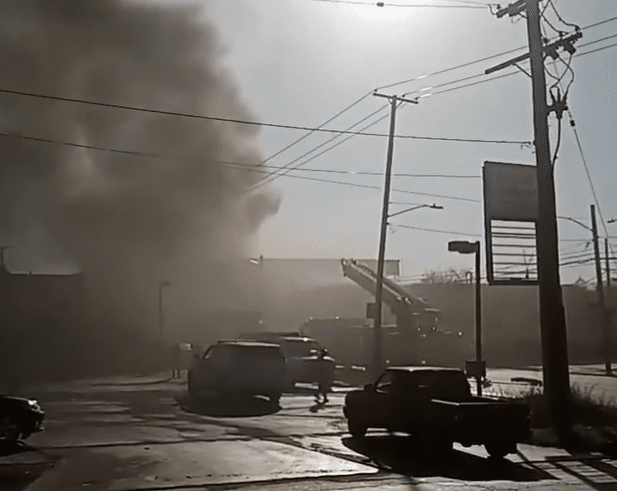 Another day, another disaster in Ohio.
No reasonable person could believe, at this point, that these disasters are coincidental. Someone is NOT happy with Ohio.
Multiple explosions and a massive fire were reported at a metal fabricator plant in Cleveland, Ohio.
More than 50+ firefighters and a hazmat specialist responded to the scene.
The company, AJ Rose Metal fabricator plant, reportedly is a global supplier of stamped metal components.
The explosions were reportedly caused by propane and nitrogen tanks.
"Working Fire in 2-Story Manufacturing Building at W.38/Clark in Battalion 4. Second Alarm (Signal 2-2-2) struck bringing 11 Companies and over 50 firefighters to the scene. No injuries reported. HazMat Specialist responding. Cause of fire under investigation," Cleveland Fire tweeted.
Cleveland.com reported:
More than 20 employees were inside the warehouse when the fire started. Several employees suffered minor injuries but refused treatment, he added. The company is a supplier of precision products and assemblies for the automotive, truck and agricultural industries. AJ Rose is headquartered in Avon.

Neighbors were not evacuated but siding to a home on Clark Avenue next to the warehouse started to melt.

"There was a lot of radiant heat. The structure was fully involved," Norman said.

He also added that there was "a lot of smoke drifting north," which could be seen from downtown.

Norman said no firefighters were hurt. The fire Wednesday morning is the third major incident involving Northeast Ohio warehouses in recent weeks.

One person was killed and at least a dozen people hurt on Feb. 20 in an explosion and fire at I. Schumann & Co., an Oakwood manufacturing company. On Feb. 18, a boiler at a Cleveland-Cliffs plant exploded in Warren.