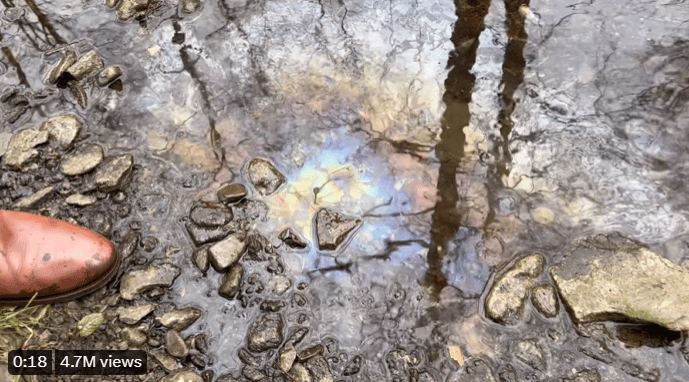 It's hard not to feel like we are under attack.
Vinyl Chloride has contaminated the Ohio River as well as waterways that run along it.
Senator JD Vance posted a video showing a chemical rainbow in a creek in East Palestine, Ohio, near the site of the train derailment that spilled toxic chemicals.
Watch the video below:
Fish and other wildlife are dying as East Palestine officials continue to tell residents that it is safe to return home and that the water is safe to drink, and the air is safe to breathe.
Ohio Gov. Mike DeWine on Friday addressed that video, which has gone viral on social media.
"I know that there's been some video played on TV circulating of visible contamination in one of the local waterways," DeWine said at a press conference providing an update on cleanup efforts and environmental testing in the area. 
"A section of Sulfur Run that is very near the crash site remains severely contaminated. We knew this. We know this. It's going to take a while to remediate this," the governor said.
Gov. DeWine insisted that the municipal water is safe to drink and that residents do not need to drink bottled water.
Watch:
The Ohio River has tested positive for toxic chemicals:
WLWT 5 reported on the Ohio River contamination:
Cincinnati city manager Sheryl Long says Greater Cincinnati Water Works is monitoring the water quality in the Cincinnati area after the train derailment and release of toxic chemicals in East Palestine.

Crews released toxic chemicals into the air from five derailed tanker cars that were in danger of exploding Monday and began burning them after warning residents near the Ohio-Pennsylvania state line to leave immediately or face the possibility of death.

Low levels of dangerous chemicals from the ones released in the derailment were detected in the Ohio River downstream of the incident.

Long says right now, the chemicals detected are far upstream of Cincinnati.
Meanwhile, Friday morning Greater Cincinnati Water Works announced that it is closing Cincinnati's water intake in the Ohio River due to the contamination.
More from Newsweek:
Local news station WLWT reported on Monday that after the burn began, small amounts of the chemicals were identified in the Ohio River, which winds through or borders Illinois, Indiana, Kentucky, Ohio, Pennsylvania, and West Virginia. It supplies more than 5 million people with drinking water. Meanwhile, states hundreds of miles away are also evaluating its water source to ensure it remains safe to drink.

On Monday, local news station WAVE 3 also reported that Louisville Water Company doesn't expect Louisville, Kentucky, to be affected by the chemical spill, but will continue to monitor the situation.

According to an article by Fox News on Monday, West Virginia American Water began enhancing water treatment over the weekend as a precaution against any possible toxic chemicals. Officials in Columbus, Ohio, also began monitoring watersheds that the city uses, but don't expect the spill to impact the city, The Columbus Dispatch reported.
It certainly doesn't look safe:
Watch Ohio tap water being boiled below: