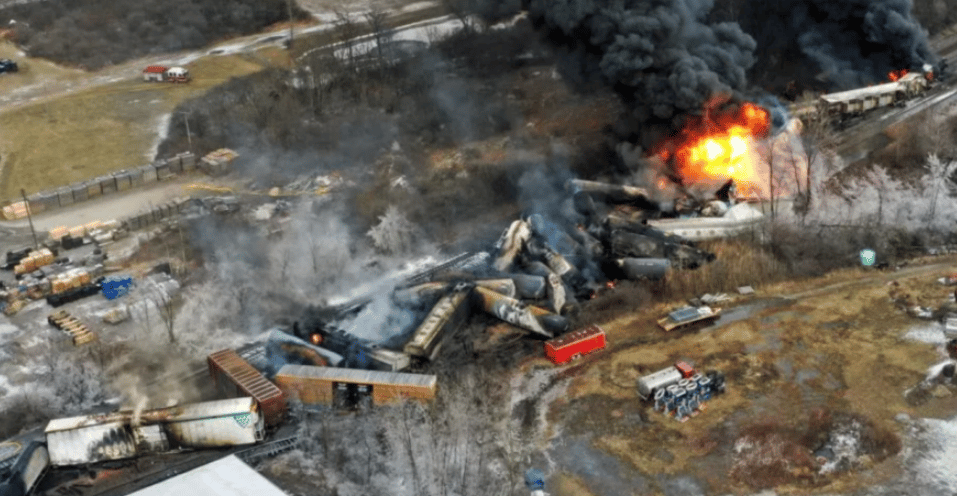 As multiple news outlets have reported, On February 3, 2023, a freight train carrying hazardous chemicals, including vinyl chloride, derailed and exploded in the town of East Palestine, Ohio, United States. The derailment caused a fire that lasted for several days.
On Monday, February 6th, crews "released" the toxic chemicals into the air from at least five of the derailed tankers citing a risk of exploding.
Vinyl Chloride is a known human carcinogen, according to a Westlake Chemical product summary description:
Vinyl Chloride is a known human carcinogen. Long term overexposure to Vinyl Chloride in humans and laboratory
animals has been known to cause angiosarcoma of the liver. Vinyl Chloride is listed by the U.S. Department of
Health and Human Services National Toxicology Program (NTP) as a known human carcinogen, by the International
Agency for Research on Cancer (IARC) as a Group 1 – carcinogenic to humans, by Occupational Safety and Health
Administration (OSHA) as a specifically regulated carcinogen, by the American Conference of Governmental
Industrial Hygienists® (ACGIH) as an A1 – confirmed human carcinogen, and the U.S. Environmental Protection
Agency as a Group A – human carcinogen.

…

When exposed to open flames, open electrical elements, or electrical arcs, Vinyl Chloride liquid or vapor can decompose to form toxic andcorrosive fumes. Depending on conditions, when Vinyl Chloride is exposed to high temperatures, heat, or ignition, hydrogen chloride gas, which is highly irritating to the nose and throat, as well as trace levels of phosgene gas, may be produced.
The Environmental Protection Agency (EPA) identified additional potentially carcinogenic chemicals onboard the Norfolk Southern train that derailed near East Palestine, Ohio.
In addition to vinyl chloride, the EPA identified the following chemicals:
Ethylene glycol monobutyl ether
Ethylhexyl Acrylate
Isobutylene
The EPA sent a letter to Norfolk Southern about the identified chemicals.
Silverado Caggiano, a hazardous materials specialist, said some of these chemicals are carcinogens in an interview with local news WKBN:
"We basically nuked a town with chemicals so we could get a railroad open," said Silverado Caggiano, a hazardous materials specialist.

Caggiano says ethylhexyl acrylate is especially worrisome. He says it's a carcinogen and contact with it can cause burning and irritation in the skin and eyes. Breathing it in can irritate the nose and throat and cause coughing and shortness of breath.

Isobutylene is also known to cause dizziness and drowsiness when inhaled.
According to a report from News Nation, the EPA and Norfolk Southern conducted tests showing the water and air are in "good living condition".
Consumer advocate, Erin Brockovich, doesn't believe the tests.
She recommended residents take pictures and videos of everything they see.
Watch the News Nation report:
Erin Brockovich is also urging people not to trust the EPA:
Hundreds of dead fish are being pulled from rivers.
Residents are reporting sick animals and dead animals and say their homes are still covered with debris.
They are taking to social media to document their experiences:
The EPA also released a manifest from Norfolk Southern that summarized how many train cars carried each chemical.
Watch:
Read the EPA manifest here:
Read the letter sent to Norfolk Southern here: