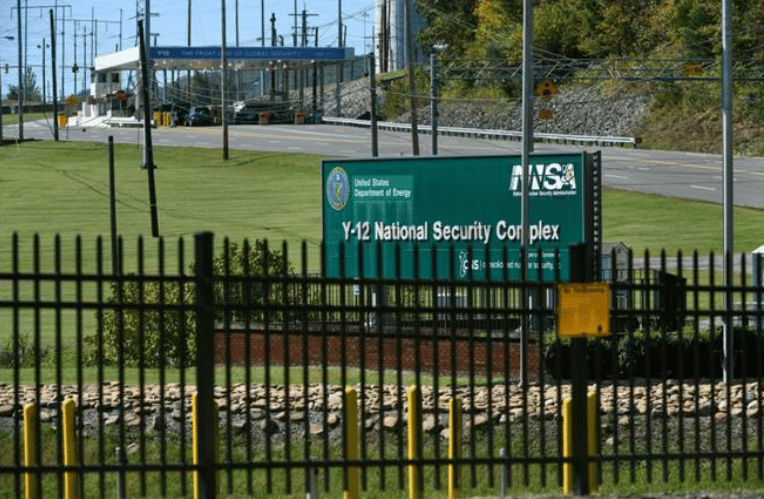 On Wednesday morning, Crews responded to a uranium fire at the Y-12 National Security Complex in Oak Ridge, Tennessee.
It appears that America is under attack.
Y-12 National Security Complex posted to Facebook:
An incident has occurred at the Y-12 National Security Complex in Oak Ridge. Y-12 emergency response personnel are at the scene of the incident. Appropriate precautionary protective actions have been initiated for Y-12 employees who are in the vicinity of the incident and who are not involved in the emergency response. There is no off-site impact to the public as a result of the incident.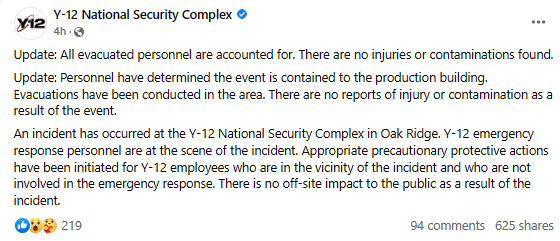 About the Y-12 National Security Complex, from its website:
The Y‑12 National Security Complex is a premier manufacturing facility dedicated to making our nation and the world a safer place and plays a vital role in the Department of Energy's Nuclear Security Enterprise.

Y‑12 helps ensure a safe and effective U.S. nuclear weapons deterrent. We also retrieve and store nuclear materials, fuel the nation's naval reactors, and perform complementary work for other government and private-sector entities.

Since 1943, Y‑12 has played a key role in strengthening our country's national security and reducing the global threat from weapons of mass destruction.

Y‑12 has evolved to become the complex the nation looks to for support in protecting America's future, developing innovative solutions in manufacturing technologies, prototyping, safeguards and security, technical computing and environmental stewardship.
WATE reported:
Officials with Y-12 National Security Complex in Oak Ridge said there were no injuries nor any indication of a release of radioactivity after a fire involving uranium occurred early Wednesday

According to a release from the National Nuclear Security Administration, the fire occurred at 9:14 a.m. Steven Wyatt with NNSA said that there was a hood fire in Building 9212, a uranium procession facility. The building and some nearby areas were evacuated.

All employees have been accounted for and there were no injuries, Consolidated Nuclear Security spokesperson Gene Patterson said.

Continuous air monitors in the area have not alerted officials to any release of radioactivity, Wyatt said. Officials said there are no off-site impacts to the public and a shelter in-place order for employees was lifted around 11:30 a.m.

According to the Y-12 website, a new uranium processing facility is being constructed to phase out dependency on Building 9212. The building was constructed in 1945 and has undergone multiple renovations and repairs over time.

Tony Boser, a technical adviser, said that the fire was in a processing area and it was contained to that area.
Watch:
Multiple industrial fires rocked the United States Tuesday.
Reports broke Tuesday morning of a fire inside a Brooklyn lumber storage warehouse.
New York wasn't the only state to experience an industrial catastrophe.
Florida and West Virginia also got rocked by fires on Tuesday.
The Florida incident took place at a welding business in Medley.
In Fayette County, West Virginia, there was a fire at an alloy manufacturing plant.
Multiple victims were reported to have suffered burns after a massive explosion rocked a metal alloy plant in Bedford, Ohio on Monday. The incident was described as a "mass casualty incident".
Earlier Tuesday, Breaking Digest reported that a train derailed in Gothenburg, Nebraska, requiring a hazmat crew to be dispatched to the scene.
Recap of the disasters that took place in the United States, just on Tuesday, via RAWSALERTS: