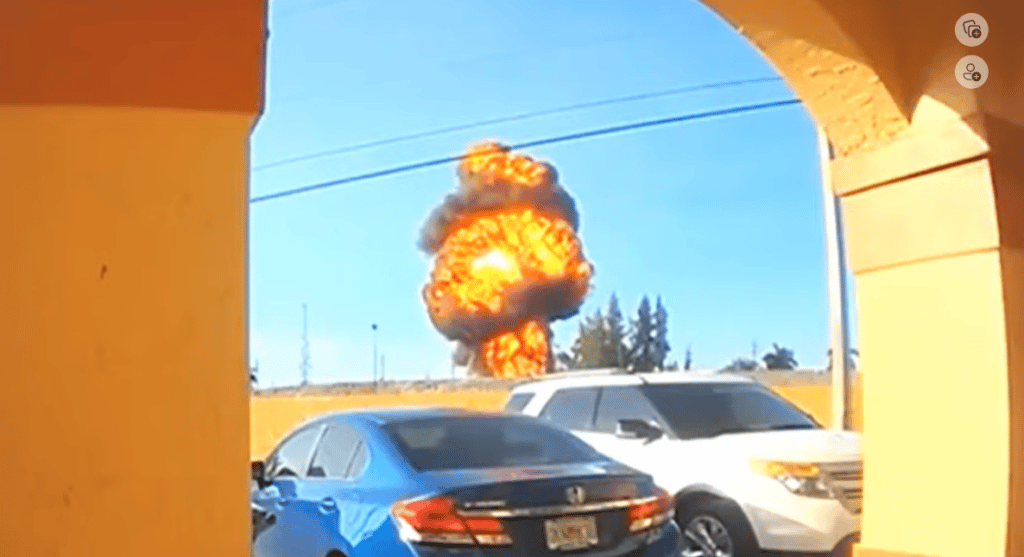 At this point, it's hard not to feel like America is under attack.
Multiple industrial fires rocked the United States Tuesday.
Reports broke this morning of a fire inside a Brooklyn lumber storage warehouse.
FDNY is reportedly still extinguishing the massive 4-alarm blaze.
Trending Politics reported:
A massive fire broke out at a Brooklyn, New York lumber facility on Tuesday.

"FDNY members are currently operating at a 4-alarm fire at 310 Hewes Street in Brooklyn. Operations are ongoing," the New York Fire Department said on social media just after 12pm.

The fire was originally a two alarm fire however it was upgraded to a four alarm fire.

As noted by bridgecable.com, a four alarm fire is "serious to the point that it can be catastrophic if not handled correctly. The biggest difference between a 4 alarm fire and the other three lower alarm fires is that since the seriousness of these fires is far increased they are rarer. Firefighters typically only face 4 alarm fires a few times each year."
New York wasn't the only state to experience an industrial catastrophe today.
Florida and West Virginia also got rocked by fires.
The Florida incident took place at a welding business in Medley.
In Fayette County, West Virginia, there was a fire at an alloy manufacturing plant.
The explosion and fire in Medley reportedly killed two people and injured three others.
Multiple vehicles caught fire and authorities are watching the air quality.
Video:
NBC 6 shared details on the Medley explosion and fire:
Two people were killed and three others were injured after an explosion and massive fire that engulfed several vehicles and buildings at a Medley welding business Tuesday morning.

Miami-Dade Fire Rescue officials said crews responded to a reported explosion at the business in the 11300 block of Northwest S. River Drive around 8:30 a.m.

A nearby camera captured a massive ball of fire rising into the air from the business.

Chopper footage showed heavy black smoke and flames pouring out of multiple structures and vehicles at the scene.

The fire seemed to be contained to one business, but several cars appeared to be destroyed as crews worked to extinguish the flames.
In West Virginia, firefighters responded to a fire at an alloy manufacturing plant.
It's unknown what caused the fire and no injuries have been reported.
WATCH:
WOWK reported:
A fire broke out at the WVA Manufacturing plant on Tuesday at 9:52 a.m. in Alloy, West Virginia.

According to Fayette County dispatch, several crews are working to contain the fire. Armstrong Creek FD, Boomer FD, Smithers FD, and Montomerey FD are currently on the scene.

Dispatch says there are no injuries at this time.
The reports from New York, Florida, and West Virginia follow a massive explosion at a metal alloy factory in Ohio yesterday that was declared a "mass casualty event".
Earlier today, Breaking Digest reported that a train derailed in Gothenburg, Nebraska, requiring a hazmat crew to be dispatched to the scene.
Recap of the disasters that have taken place in the United States, just today, via RAWSALERTS: