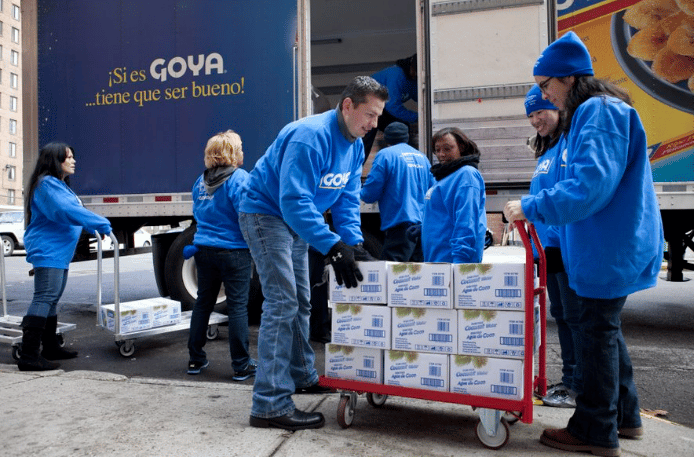 While Biden visited Ukraine this week, President Trump visited East Palestine, Ohio to meet with residents and local leaders as they struggle to cope with the aftermath of the train derailment that led to a large release of toxic chemicals.
Trump also toured the derailment site and donated water and other supplies.
In a Monday press release, Goya announced it was sending ready-to-serve food and beverages to the people of East Palestine impacted by the train derailment.
"The impact of this disaster is devastating on both the community and the environment. East Palestine has been treated like a forgotten town, and while this may be a small community, it is not a forgotten community by Goya. We are always present during moments of tragedy for all people in need," said Bob Unanue, President and CEO of Goya Foods.
From PR Newswire:
Goya products will be received and distributed with the help of Chaney Nezbeth, Executive Director of Way Station, a community resource for families and individuals in need.
"Being able to offer the residents of East Palestine food and beverages options that don't require their tap water for preparation is something no one else had even thought of. The variety of items that Goya is providing is incredible and absolutely needed right now," said Chaney Nezbeth, Executive Director of Way Station.
"In response to the recent #Ohio train derailment, we are sending ready-to-serve Goya food/beverages to the people of #EastPalestine & surrounding areas," Goya Foods tweeted Tuesday.
"Towns like East Palestine that are humble to some might be a community of deplorables to some, but to us, they're the heart and soul of America," Bob Unanue told Neil Cavuto.
Watch:
Thank you, Goya, and Bob Unanue!
Goya is a wonderful company.
Back in 2020, Rep. Alexandra Ocasio-Cortez (AOC) called for a boycott of Goya because the CEO, Bob Unanae, publicly praised President Trump and donated to his presidential campaign.
In response, patriots called for a "buycott" and Goya's sales skyrocketed, prompting Unanae to name AOC Goya "Employee of the Month".
This calls for another #BuycottGoya
FOX Business reported:
With many in the East Palestine community reluctant to eat or drink locally-sourced food or water, Goya Foods has stepped up to provide relief to those residents and surrounding areas who are struggling to stay nourished.

"We've always done this," Goya's CEO Bob Unanue said of their efforts on "Cavuto: Coast to Coast" Tuesday. "During COVID, we gave out 4.5 million pounds of food… that's what we do. Our DNA is, we reach out not just because we can, but our food is nutritious."

On Monday, Goya announced it would send ready-to-serve food and beverages to those impacted by the toxic train derailment. The products are being received and distributed with the help of community resource center Way Station, according to a press release.

"The products that we produce around the country, beans, are a very important, nutritious staple. So we figured we'd provide food to this community, which already contains water. So we'll put our water in and then ship it to them [as] a ready-made product," Unanue explained.
Watch the full interview via FOX Business on YouTube: