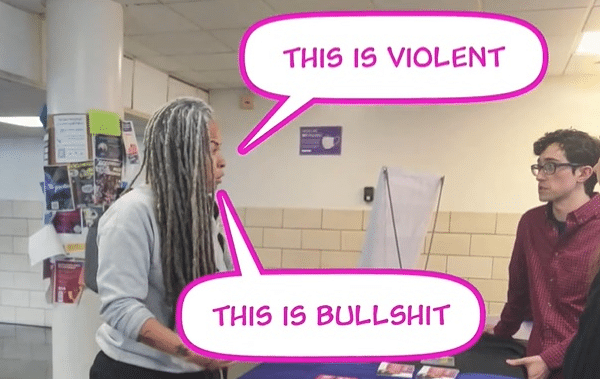 An unhinged pro-abortion professor at Hunter College in New York City must have gone off of her meds recently. The lunatic was caught on video vandalizing a pro-life table, cursing at students, and accusing them of "violence."
You can't make this crap up.
Adjunct professor Shellyne Rodriguez is seen in a video published by Students for Life America, using profanities as she berates the students at their table. She tells them that they are "triggering" her students and exhibiting "violent" behavior.
The students were simply handing out literature.
"You're not educating shi-t, this is f-cking propaganda," Rodriguez says in the video, "What are you going to do like anti-trans next? Is that what you're gonna do?"
The student replied, "No, we are talking about abortion."
"This is bullshi-t. This is violent," Rodriguez claimed. "You're triggering my students."
The student apologized to the unhinged professor — which Rodriguez did not accept.
"No, you're not, because you can't even have a f-cking baby. So, you don't even know what that is. Get this sh-t the f-ck out of here," the professor said before she shoved the student's literature off the table. "F-ck this shit."
Watch:
PSC Graduate Center, a labor organization which represents City University of New York, defended Rodriguez, according to a report from the Daily Caller.
"Students for Life and other far-right groups are not welcome on our campuses. Anti-abortion propaganda actually endangers people's lives, and incites other far-right views and actions to emerge. Anti-abortion groups are in collusion with anti-queer and trans, anti-labor, and anti-Palestinian campaigns, in a larger vicious vision to violate people's bodily autonomy, economic well-being, and collective determination," the group said in a statement.