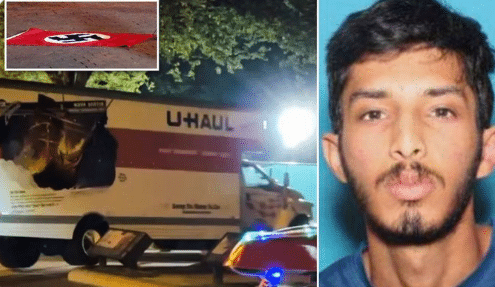 On Monday night, a man driving a U-Haul truck was taken into custody after he apparently attempted to crash through a White House barrier.
There were no weapons or explosives found but police allegedly pulled a nazi flag from the U-Haul.
The suspect allegedly made comments about wanting to harm Joe Biden.
This morning he was identified and is now facing a litany of charges, including "threatening to kill or harm a president, vice president or family member."
A Secret Service spokesperson said, "There were no injuries to any Secret Service or White House personnel and the cause and manner of the crash remain under investigation."
Watch:
The media is referring to him as a "white supremacist".
Social media users aren't buying this one. No weapons. No explosives. Just a brand-new Nazi flag, fresh out of the package that the police laid out conveniently for the fake news to photograph.
And what exactly was the driver's plan since there were no weapons or explosives. Just drive through the White House barriers and get arrested?
The suspect was later identified as 19-year-old Sai Varshith Kandula of Missouri… an obvious skinhead.
I guess the demand for "white supremacists" has surpassed the supply.