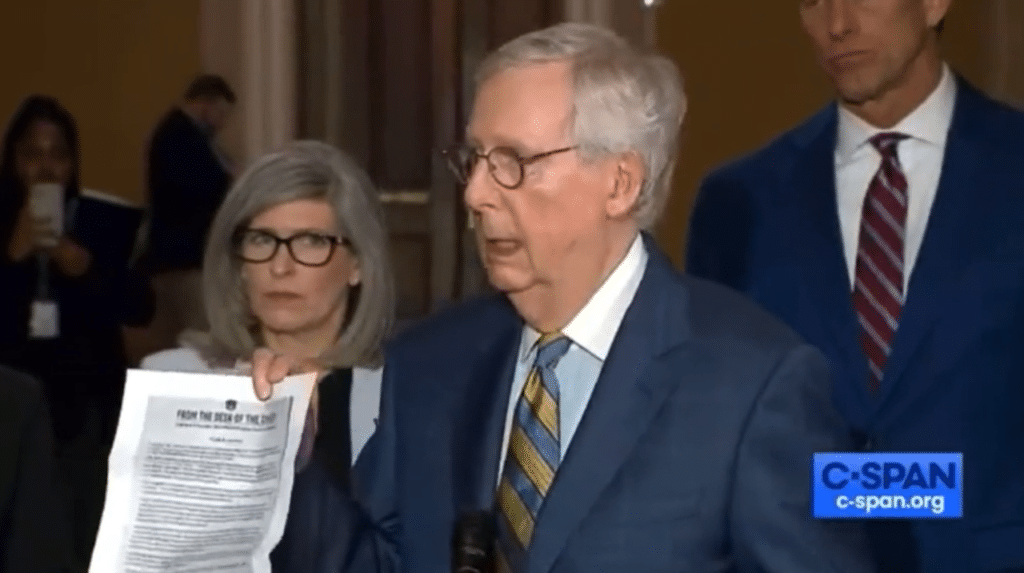 On Tuesday, RINO Senate Minority Leader Mitch McConnell said it was a "mistake" for Tucker Carlson to show January 6 footage that was deliberately hidden from the American public for years.
On Monday evening, Fox News's Tucker Carlson began releasing January 6 surveillance footage that has been hidden from the American public.
Carlson showed footage of Officer Brian Sicknick walking around the Capitol after he was supposed to have been murdered by Trump supporters.
Carlson showed footage of Jacob Chansley, aka the QAnon Shaman, being escorted through the Capitol by police the entire time he was in the building as if they were his tour guides.
Carlson showed footage that proves Ray Epps perjured himself in sworn testimony to the J6 Committee.
Carlson exposed the liars on the sham J6 Committee for deceptively editing footage to use as "propaganda" against Senator Josh Hawley (R-MO).
Mitch McConnell, along with Liz Cheney, Adam Kinzinger, Nancy Pelosi, and the mainstream media lied about what really happened on January 6. They deliberately hid evidence from the American public because it shows the truth.
The newly released J6 footage has completely destroyed the phony "deadly insurrection" narrative.
McConnell was asked if it was a "mistake" for Tucker Carlson to release the footage.
"It was a mistake in my view for Fox News to depict this in a way that's completely at variance with what our chief law enforcement official here at the Capitol thinks," McConnell said.
He's angry because he and the Democrats worked so hard to keep the public from knowing the truth.
Watch: