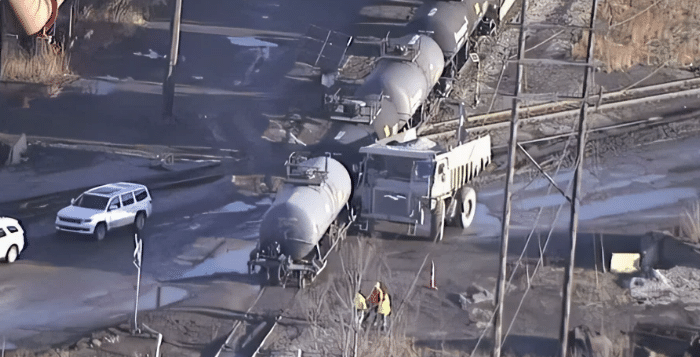 A Norfolk Southern train conductor died when a train collided with a dump truck in Cleveland, Ohio.
Cleveland police told WKYC that its accident investigation unit responded to 2615 W. 3rd Street "for a crash involving a vehicle striking a train with a fatality." 
The collision reportedly occurred while a Norfolk Southern train was passing through a Cleveland-Cliffs Cleveland Works property around 1:19 a.m. 
"As a result of the collision, a Norfolk Southern employee lost his life," a spokesperson for Cleveland-Cliffs, a flat-rolled steel producer and supplier of iron ore pellets, told WKYC. "The location is being controlled by Cleveland police and Norfolk Southern."
"A Norfolk Southern employee was killed inside the Cleveland Cliffs steel mill overnight. Per CLE Cliffs a NS train and Stein Inc. dump truck collided resulting in the death of the NS employee. CPD and Norfolk Southern handling the investigation," said News 5 Cleveland photographer Mike Vielhaber.
From FOX 8:
In a press release the company said, "At this time, officials are reporting that the conductor was struck by a dump truck as a Norfolk Southern train was moving through a crossing at the facility."

According to the Cuyahoga County Medical Examiner, the victim has been identified as 46-year-old Louis Shuster of Broadview Heights.

Shuster was the union president of the Brotherhood of Locomotive Engineers and Trainmen Division 607. Representatives also say that he was a father and Army veteran.

"Lou was a passionate and dedicated union brother," said Pat Redmond, Local Chairman of BLET Division 607. "He was always there for his coworkers. He was very active in helping veterans who worked on the railroad and veterans all across our community."
Watch:
This incident is the latest in a string of disasters to hit Ohio since early February, starting with the catastrophic train derailment and the subsequent "controlled burn" of highly toxic chemicals in East Palestine, Ohio.
Breaking Digest reported that emergency crews and fire departments responded to an explosion and a fire at Emery Oleochemicals in Cincinnati on Monday.
More from NBC News:
The National Transportation Safety Board said Tuesday it will launch an investigation into Norfolk Southern after the derailment last month of a train transporting dangerous chemicals in East Palestine, Ohio, and a series of other "significant accidents."

The agency said it would be looking into the railroad's safety practices and culture.

The announcement came just hours after the railroad said a conductor had been fatally struck at an Ohio steel facility.

"Given the number and significance of recent Norfolk Southern accidents, the NTSB also urges the company to take immediate action today to review and assess its safety practices, with the input of employees and others, and implement necessary changes to improve safety," the agency said in a statement.