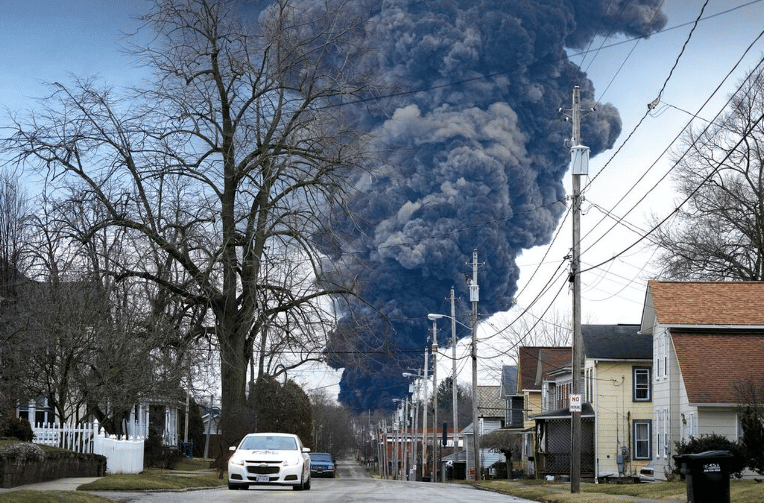 The train derailment in East Palestine and the subsequent "controlled burn" of highly toxic chemicals has caused possibly the biggest environmental catastrophe in American history.
State, government, and railroad officials approved a plan to blow up six railcars of toxic vinyl chloride that formed a mushroom cloud in the sky before it rained down on the city and surrounding area.
Although vinyl chloride is the main chemical mentioned, the Environmental Protection Agency (EPA) identified additional potentially carcinogenic chemicals onboard the Norfolk Southern train that derailed near East Palestine, Ohio.
Fish and other aquatic life are turning up dead in local creeks and rivers that feed into the Ohio River and eventually, the Mississippi River.
Chickens and other pets in the region are reportedly dying.
Breaking Digest reported earlier that vinyl chloride had contaminated the Ohio River and the waterways that run along it.
Despite, the obvious risk to residents' safety, officials continue to insist that it is safe to return home… the water is safe to drink, and the air is safe to breathe.
Joe Biden has wholly ignored the situation and decided to spend President's Day in Ukraine.
CNN reported that residents of East Palestine, Ohio are now reporting rashes and headaches following the massive toxic chemical explosion.
Watch:
CNN reported:
Some residents of East Palestine, Ohio, say they have developed rashes, sore throats, nausea and headaches after returning to their homes this week, and they're worried these new symptoms are related to chemicals released after a train derailment two weeks ago.

The February 3 incident caused a massive fire and prompted officials to evacuate hundreds of people who lived near the site because of fears that a hazardous, highly flammable material might ignite. To prevent a potentially deadly explosion, toxic vinyl chloride gas was vented and burned, releasing a plume of black smoke over the town for days.

Other chemicals of concern at the site include phosgene and hydrogen chloride, which are released when vinyl chloride breaks down; butyl acrylate; ethylene glycol monobutyl ether acetate; and 2-ethylhexyl acrylate, according to the US Environmental Protection Agency. All these chemicals can change when they break down or react with other things in the environment, creating a stew of potential toxins.

Residents were given the all-clear to return to their homes February 8 after air monitoring in East Palestine did not detect any elevated chemicals of concern.

Officials say further testing of indoor air in about 500 homes has also not shown any hazards.
The residents of East Palestine, Ohio have been completely abandoned.