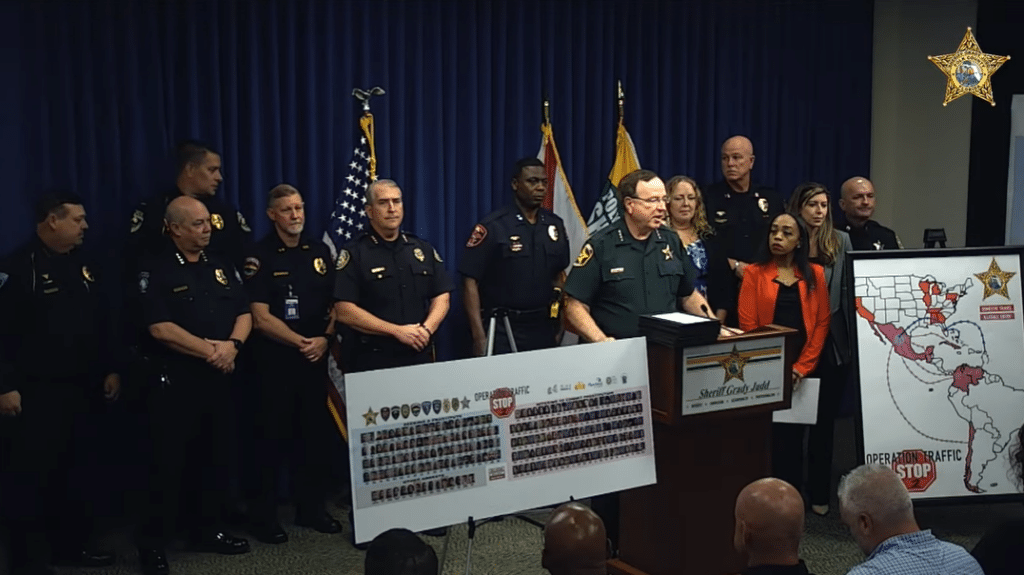 A massive human trafficking ring in Polk County, Florida, was dismantled as a result of an undercover investigation, resulting in the arrests of 219 individuals.
The Polk County Sheriff's Office has reported that 219 individuals were taken into custody as part of a human trafficking sting named "Traffic Stop 2." Among those arrested were a high school coach, three Disney employees, and 35 illegal aliens.
Sheriff Grady Judd of Polk County released the operation's outcomes on Thursday, highlighting that out of the 119 individuals arrested for prostitution during the operation, which began last week, 21 were likely victims of human trafficking.
Watch the press conference on the operation:
🚨🚨Breaking: School coach, and 3 Disney employees among those arrested in human trafficking sting in Polk County, Florida. 219 people arrested including 35 illegal immigrants. 44 felonies and 242 misdemeanors charged. Operation Traffic Stop was a joint op involving several… pic.twitter.com/wfoUkCQPy8

— Will (@WillSaveTheKids) September 28, 2023
Undercover human trafficking investigation "Operation Traffic Stop" results in 213 arrests in Polk County, Florida.

Some interesting notes from the operation:⁰
• Five suspects were previously arrested by PCSO during a similar undercover operation, and two of those were just…

— 1776Revolutionist (@1776Revolution2) September 29, 2023
More from Fox News:
A Polk County, Florida, human trafficking operation earlier this month led to the arrests of 219 people, including people in the country illegally, a high school teacher, and three Disney employees, according to authorities.

Polk County Sheriff Grady Judd on Thursday announced the results of the operation, saying out of 119 prostitutes who were arrested during the operation that began last week, 21 were possible victims of human trafficking.

Two suspects were charged with human trafficking, and both were in the U.S. illegally.

Freddy Escalona, 30, and Maria Guzman, 36, were charged with human trafficking and deriving proceeds from prostitution.

Escalona, police said, lent money to a victim to fix her vehicle, and after she was unable to pay him back, he allegedly forced her into prostitution.

When Escalona drove the victim to the undercover location, he was taken into custody and told detectives he had "several females that he worked," or who paid him to transport them and keep them safe, Judd said.

Guzman also allegedly trafficked two victims from a hotel in Orlando, setting up their "dates" and profiting from the money they made.
Human trafficking is a huge problem in America that is being made much worse by Biden's crisis at the Southern border.
Polk County, Florida sheriff busts a human trafficking operation and arrested 219 people, including people in the country illegally, a high school teacher, and 3 Disney employees.

America…..We have a problem.

— Mark Nantz (@BullseyeBanjo) September 28, 2023
More about the others who were arrested from the New York Post:
The Vanguard School athletic director Russell Rogers, who also is an Auburndale High School REAL Academy teacher in the county, was arrested for allegedly soliciting a prostitute.

The married father of three was also a former youth football coach, Judd said.

"This dude now is coaching in county jail," he said. "I can't believe we want somebody like this around our children."

Polk County Schools told Fox 13 they were disappointed to learn of the allegations against Rogers and were moving to firing him.

"Part of being an educator is understanding that you are held to a higher standard for your actions in the classroom, as well as the community," the school system said in a statement. "These charges don't involve students, and Rogers was not on duty as a teacher, but this kind of conduct still has no place in our school system."

Among the more shocking allegations in the case involved a father who left behind his 1-year-old daughter to have sex, but allegedly insisted to investigators the baby was being watched by the family dog, Judd said.

Another man brought his 15-year-old daughter he shares with his ex-wife to the area for her birthday, but instead left her in a motel room to have sex somewhere else, he said.

"For her birthday we arrested her dad," Judd said. "And put him in the jail."

Two women also dragged a 14-month-old child with them when they went to have sex, Judd alleged. While one woman was busy, the other woman watched the child.