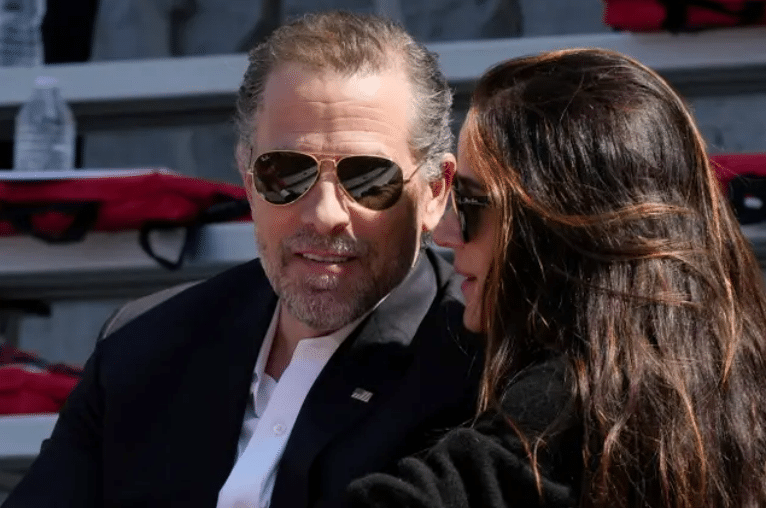 According to multiple reports, Biden's corrupt Department of Justice removed an IRS whistleblower and his "entire investigative team" from a tax fraud investigation into Hunter Biden.
In a letter sent Monday to Republican and Democrat members of Congress, the whistleblower's attorneys wrote that the whistleblower and his entire team of investigators have been removed from the investigation into Hunter Biden at the request of the DOJ.
"Today the Internal Revenue Service (IRS) Criminal Supervisory Special Agent we represent was informed that he and his entire investigative team are being removed from the ongoing and sensitive investigation of the high-profile, controversial subject about which our client sought to make whistleblower disclosures to Congress," attorneys Tristan Leavitt and Mark Whyte wrote. "He was informed the change was at the request of the Department of Justice," the letter continued.
The IRS whistleblower came forward last month with allegations of preferential treatment and political interference by federal prosecutors appointed by Joe Biden, and AG Merrick Garland in order to protect his crackhead son, Hunter Biden, from criminal tax charges.
The New York Post reported:
The whistleblower, who has supervised the Hunter Biden probe since early 2020, has not publicly identified the first son as the subject of his coverup claims, though congressional sources have done so.

"On April 27, 2023, IRS Commissioner Daniel Werfel appeared before the House Committee on Ways and Means. He testified: 'I can say without any hesitation there will be no retaliation for anyone making an allegation or a call to a whistleblower hotline.' However, this move is clearly retaliatory and may also constitute obstruction of a congressional inquiry," the lawyers went on.

"Our client has a right to make disclosures to Congress … He is protected by 5 U.S.C. § 2302 from retaliatory personnel actions—including receiving a 'significant change in duties, responsibilities, or working conditions' (which this clearly is) because of his disclosures to Congress.

"Any attempt by any government official to prevent a federal employee from furnishing information to Congress is also a direct violation of longstanding appropriations restriction. Furthermore, 18 U.S.C. § 1505 makes it a crime to obstruct an investigation of Congress," Lytle and Leavitt wrote.

The whistleblower's team added: "We respectfully request that you give this matter your prompt attention. Removing the experienced investigators who have worked this case for years and are now the subject-matter experts is exactly the sort of issue our client intended to blow the whistle on to begin with."
More from Just the News:
The letter was addressed to the GOP chairman and top Democrats on the Judicial and House Ways and Means committees as well as the Democrat chairmen and top Republicans on the Senate Finance and Judiciary committees.

In late April, Just the News reported that an IRS whistleblower was alleging that federal prosecutors had engaged in "preferential treatment and politics" to prevent tax charges from being filed against the president's son.

The whistleblower's allegations appear to contradict sworn testimony from Attorney General Merrick Garland that Delaware U.S. Attorney David Weiss, who has been heading up the investigation, had full authority to pursue the case without fear of political interference.

Speaking on the "Just the News, No Noise" television show on Friday, Leavitt revealed that congressional leaders had received the allegations with interest and would likely to hold hearings to air his client's claims.

He also said Missouri Republican Rep. Jason Smith has identified that House Ways and Means is committed to thoroughly hearing these allegations, "so we look forward to a process. … We are engaged with both sides of the aisle, and we anticipate that ultimately, our client, a very, very courageous and well-respected whistleblower, will be able to share his allegations with Congress."
A copy of the letter, obtained by Just the News, can be read HERE.
Full text of the letter:
Dear Chairs and Ranking Members:

Today the Internal Revenue Service (IRS) Criminal Supervisory Special Agent we represent was informed that he and his entire investigative team are being removed from the ongoing and sensitive investigation of the high-profile, controversial subject about which our client sought to make whistleblower disclosures to Congress. He was informed the change was at the request of the Department of Justice.

On April 27, 2023, IRS Commissioner Daniel Werfel appeared before the House Committee on Ways and Means. He testified: "I can say without any hesitation there will be no retaliation for anyone making an allegation or a call to a whistleblower hotline." However, this move is clearly retaliatory and may also constitute obstruction of a congressional inquiry.

Our client has a right to make disclosures to Congress pursuant to 26 U.S.C. § 6103(f)(5) and 5U.S.C. § 7211. He is protected by 5 U.S.C. § 2302 from retaliatory personnel actions—including receiving a "significant change in duties, responsibilities, or working conditions"1 (which this clearly is) because of his disclosures to Congress.2 Any attempt by any government official to prevent a federal employee from furnishing information to Congress is also a direct violation of longstanding appropriations restriction.3 Furthermore, 18 U.S.C. § 1505 makes it a crime to obstruct an investigation of Congress.

We respectfully request that you give this matter your prompt attention. Removing the experienced investigators who have worked this case for years and are now the subject-matter experts is exactly the sort of issue our client intended to blow the whistle on to begin with.

Cordially, Tristan Leavitt
President Empower Oversight

Mark D. Lytle
Partner
Nixon Peabody LLP