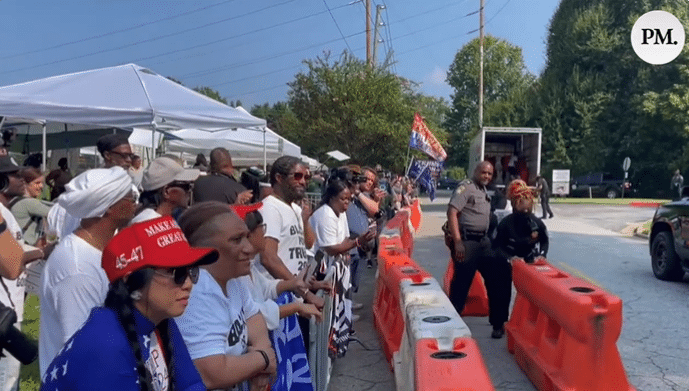 Orange barriers were erected at the Fulton County jail ahead of President Trump's expected arrival on Thursday.
President Trump is expected to turn himself in to authorities on Thursday following the charges filed by Fulton County DA Fani Willis, including RICO and conspiracy allegations, for challenging the 2020 election results.
Fani Willis, the District Attorney of Fulton County with a Marxist perspective, has applied RICO and conspiracy charges against President Trump and 18 others for their audacious challenge to the 2020 election.
Last Monday, a Fulton County grand jury issued a 41-count indictment against Trump, that included charges of RICO and conspiracy.
Thirteen charges were brought against Trump, and his bond was set at $200,000.
Watch:
Barriers being installed outside Fulton County Jail ahead of Trump's arrival.

Footage by: @SaraHigdon_ pic.twitter.com/DytRiNeh1U

— The Post Millennial (@TPostMillennial) August 24, 2023
Ben Berquam is reporting live from outside of the Fulton County jail.
Watch:
Hundreds Gathering Outside Fulton County Jail In Support of President Trump@LauraLoomer joins @BenBergquam and Steve Bannon on the War Room to discuss the support gathered outside the Fulton County jail for President Trump.

Watch LIVE➡ https://t.co/aeKhZCtVbe

Watch more… pic.twitter.com/gfRBjIuzpl

— Real America's Voice (RAV) (@RealAmVoice) August 24, 2023
President Trump said on Wednesday that he "will proudly be arrested" in Georgia.
NOBODY HAS EVER FOUGHT FOR ELECTION INTEGRITY LIKE PRESIDENT DONALD J. TRUMP. FOR DOING SO, I WILL PROUDLY BE ARRESTED TOMORROW AFTERNOON IN GEORGIA. GOD BLESS THE UNITED STATES OF AMERICA!!!