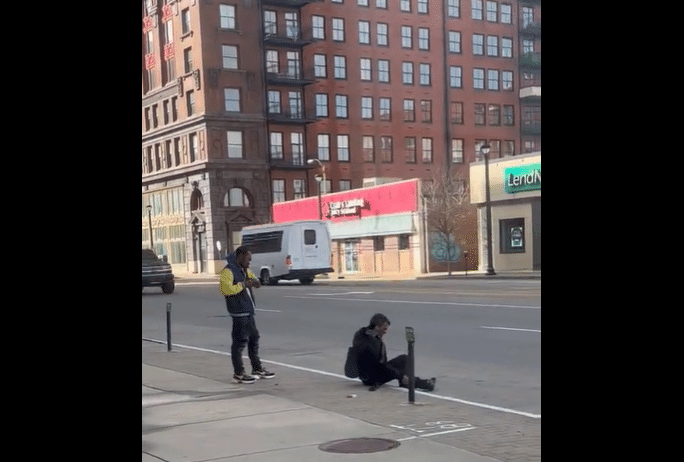 A highly disturbing incident took place Monday in St. Louis, where voters elected a Black Lives Matter grifter, U.S. Rep. Cori Bush (D), to Congress.
A homeless man was executed on a city street in St. Louis Monday morning in broad daylight. The shooting was captured on video, showing the victim was shot at least twice, with about ninety seconds elapsing before the first shot and the second fatal shot.
The shooting took place around 10:00 AM.
Witnesses told police that there was an altercation at a nearby gas station prior to the shooting.
The person filming cuts the video once he realizes he is witnessing a murder. Before the video cuts off, the victim is seen sitting on the curb as a black man stands a few feet away from him. The man casually pulls out a gun and appears to load it. He then steps closer, aims at the victim's head, and fires.
The shocking video was posted Monday night with this caption: "This was in #stl today in broad daylight. Dude executed him with not a care in the 🌍. We have a corrupt George Soros funded prosecutor and 1/4 murders in St Louis actually are prosecuted. That's what y'all get when you vote for soft on crime democrats. This is outcome. Another black man executed where's blm?"
A longer video was posted Tuesday shows the man was shot twice: "Heres the full video of the broad daylight murder in #stl yesterday. Btw 10 am today #kimgardner supporters are gathering downtown.Meanwhile a young girl lays with her legs amputated and crushed pelvis 1 mile away in the hospital from a thug Kim and her cronies let back on the street when he should been in jail. Show Kims pals this 🎥 from yesterday PS I'm not the one recording I just was given the video knowing I'm not scared to post it. Hoping the guy goes public people need to see truth of what happens here daily."
The person recording the video called police but did not risk intervening.
"Meanwhile a group of people watch as a man takes his time to load a gun and murder someone. Nobody even shouted to the guy sitting down to warn him about it. They just watched it play out," conservative reporter Matt Walsh tweeted.
KMOV4 reported:
ST. LOUIS, Mo. (KMOV) – A man was shot and killed in downtown St. Louis Monday morning, police tell News 4.

The shooting happened around 10:00 a.m. on Tucker near Lucas. Police said witnesses told them there was an altercation prior to the shooting.

Police said the person that was shot appeared to be homeless.

Police have not provided a description of the suspect.
Watch the report from KMOV4:
Around 2:40 p.m., police found the suspect entering a library on Olive Street and took him into custody.