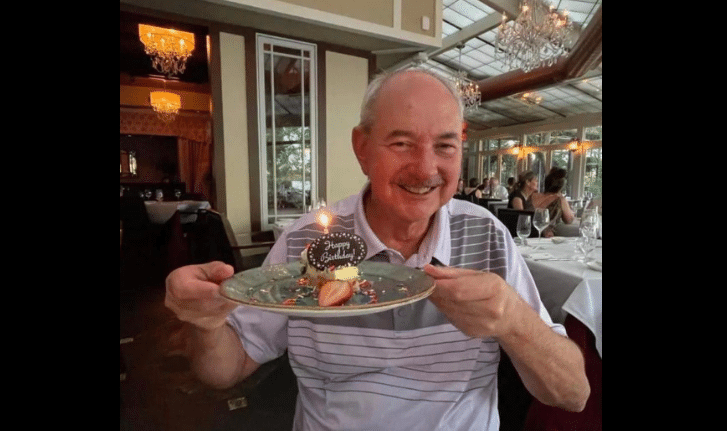 A retired California police chief was killed after he was deliberately mowed down while riding his bike in Las Vegas by a laughing teenager.
Disturbing video footage of the incident shows a teenage driver intentionally plowing into Andreas Probst, 64, as he was on a morning bike ride around 6 a.m. on August 14, according to Las Vegas police.
The unidentified 17-year-old driver of the stolen Hyundai was arrested by law enforcement a short time later for hit-and-run. The teen was later charged with murder after police discovered the video posted on social media that shows him deliberately hitting the man.
The video, which went viral over the weekend, shows the driver asking his passengers, "ready?"
"Yeah, hit his ass," a passenger tells the driver before the vehicle plows into Probst.
The disturbing footage starts with the teens cursing at another vehicle before and after intentionally slamming into it on North Tenaya Way, near West Centennial Parkway.
The video then shows the car approaching Probst, who is cycling along the side of the road ahead. Encouraged by his friends, the driver veers into the bike lane, honks his horn, and deliberately slams into Probst, sending him flying.
The passenger films the aftermath as the injured man is lying on the side of the road.
"Damn that n—a got knocked out!" exclaims one of the teens. Another one can be heard saying, "Oh sh*t, we need to get outta here," as the car speeds away from the scene.
Probst was transported to University Medical Center, where he later died, as reported by the Las Vegas Review-Journal.
Watch (Warning: graphic and disturbing video):
#LasVegas: Murder charges filed against a 17-year-old boy after the teenage driver plowed into a cyclist.

Retired Bell, CA police chief— who resided in Vegas—Andreas Probst, 64, was fatally struck while cycling. 🕊️ (Warning: graphic video) #TrueCrime pic.twitter.com/6SEKdtWO0Y

— True Crime with Laura🕵🏼‍♀️⚖️ (@Lauraonthecase) September 17, 2023
Far worse than George Floyd incident bc it was premeditated, uninitiated, streamed & done for fun. Pure evil.

Zero coverage.
Zero protests.
Zero outrage.

Why? BC it doesn't fit the First World Race Narrative for Gov't/Media agendas.

When will you all get it?#AndreasProbst https://t.co/KbiSAfd94M

— Bopper (@TheDiddyBop) September 16, 2023