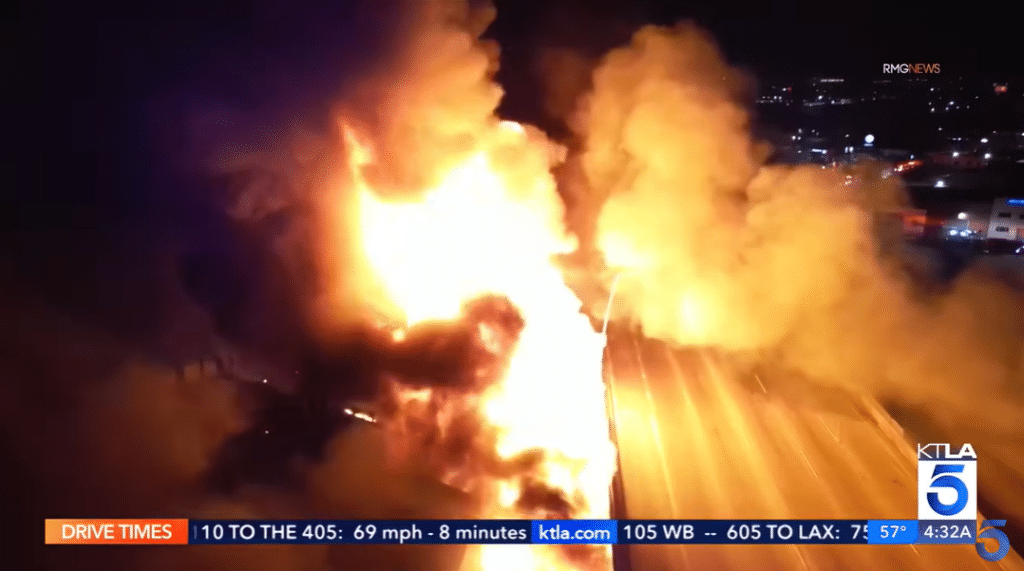 A massive fire in Los Angeles led to the closure of a part of the 10 freeway near a homeless encampment on Saturday. The fire was initially reported at around 12:30 am on Saturday beneath the 10 freeway at Alameda and East 14th Street.
The fire's size and intensity resulted in the melting of some steel guardrails and caused damage to fire trucks.
The State Fire Marshall established an anonymous tip line for reporting information.
Watch:
On Monday, officials disclosed that the cause of the massive fire near a homeless encampment beneath the 10 Freeway in Los Angeles on Saturday was a result of arson.
What's left of the homeless encampment beneath the I-10 freeway in LA. pic.twitter.com/kgBeTlkLRZ

— Ian Miles Cheong (@stillgray) November 13, 2023
Experts are still assessing whether the overpass needs complete reconstruction or can be rebuilt.
The damage to this section of the freeway has impacted hundreds of thousands of commuters facing detours and heavy traffic. Certain residents, seeking to avoid the congestion, opted for public transportation or worked remotely from home.
L.A. Times reported:
The massive fire that has shut down a crucial section of the 10 Freeway in downtown Los Angeles was caused by arson, officials said Monday as they raced to assess the extent of the damage and determine how long it would take to reopen.

More than 100 columns along the swath of the freeway were damaged — nine or 10 of them severely — Gov. Gavin Newsom said.

It's still unclear, pending the results of official tests at the site, if the entire overpass will be torn down or retrofitted.

The situation poses a commuting challenge that L.A. has not seen in years, with hundreds of thousands of commuters facing detours and heavier-than-normal traffic. Starting Monday, some worked from home and others took mass transit, but many simply endured the delays.