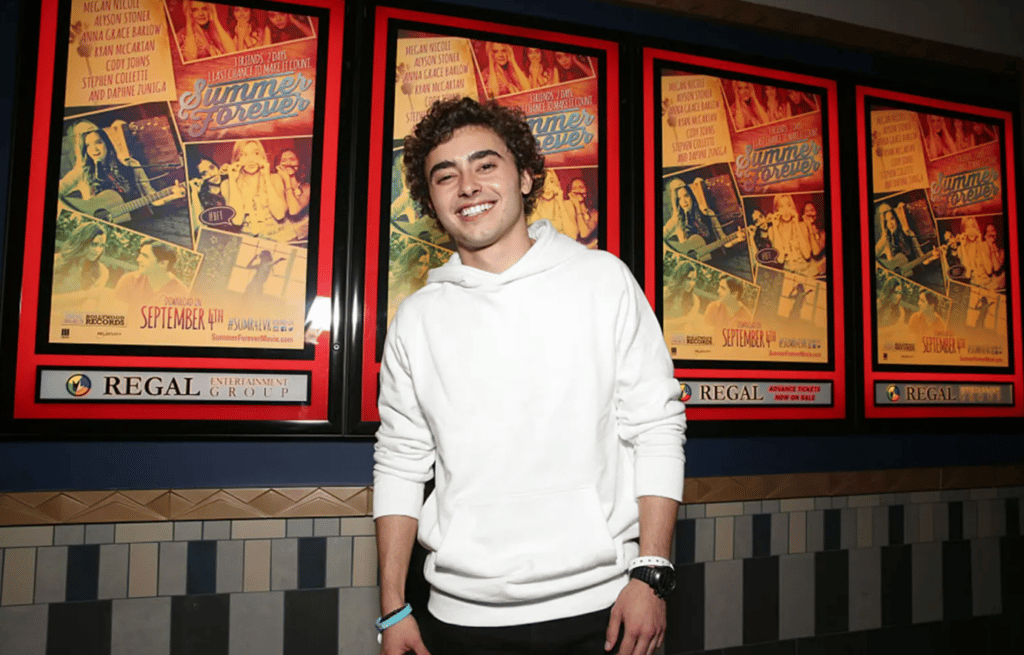 Update below…
Jansen Panettiere, an actor, and Hayden Panettiere's younger brother, died suddenly at age 28.
Jansen is believed to have died over the weekend in New York.
A family source reportedly confirmed the sad news to TMZ.
According to the publication, law enforcement officials were called to a home at around 5.30 pm on Sunday.
No further details have been disclosed and his cause of death has not yet been revealed.
The New York Post reported:
Jansen Panettiere, an actor and actress Hayden Panettiere's brother, has reportedly died. He was 28.

TMZ reported Monday that sources close to the family said Jansen died Sunday at home in New York. His cause of death is unclear at this time, but police say there was no foul play in his death, the outlet reported.

An actor in his own right, Panettiere worked on early 2000s projects such as "Even Stevens," "Blue's Clues," "Robots" and "Ice Age: The Meltdown."

Jansen, who was five years younger than Hayden, was her only sibling. The duo worked together on "Tiger Cruise" in 2004 and "Racing Stripes" in 2005. 

In 2008, Jansen was nominated for a Young Artist Award for his role as Luke in "The Last Day of Summer."

He voiced TrumanX in 15 episodes of Nickelodeon's "The X's" from 2005 to 2006. He also appeared in an episode of "The Walking Dead" in 2019.

Jansen's most recent credit was in the holiday comedy-drama movie "Love and Love Not" in 2022. 

He is credited with four more upcoming projects, according to his IMDb.

Hayden, who stars in the upcoming "Scream 6" movie, has not yet publicly reacted to Jansen's reported death. 
Update: According to the website TMZ, foul play is not suspected in Panettiere's death.
The Western Journal reported:
Actor and artist Jansen Panettiere, the brother of actress Hayden Panettiere, has died at the age of 28.

According to the website TMZ, foul play is not suspected in Panettiere's death.

Jansen Panettiere's acting career began in 2002, according to USA Today. His acting credits included an appearance in season nine of "The Walking Dead."

According to a report from TMZ, friends of Panettiere's grew worried about him when he did not show up for a Sunday meeting.
The report said that one friend went to Jansen Panettiere's New York City apartment and found him unresponsive and sitting in a chair.

The report said that the friend tried to revive him with CPR and also called 911.

Panettiere is five years younger than his sister and worked on projects that included "Even Stevens," "Blue's Clues," "Robots," "Ice Age: The Meltdown," and "The X's."

The website ET online, citing a source it did not name, said his sister "is absolutely heartbroken."

"She loved her brother unconditionally and the two shared a special bond," the source said.

"Jansen suffered from mental health issues and art was his therapy and escape. In the past, Jansen was open to family and friends about his struggles. Hayden was always there for him and constantly tried to help Jansen when she could," ET's source said.
Jansen Panettiere wrote about his struggles in a 2019 post on Medium.

"I'm a painter now. I've painted for most of my life but only as of recent have I self-identified with the practice. It's my therapy," he wrote.

"Those of you whom understand anxiety and depression know that it's like suffocating. It's like searching for a breathe of cool air in a steam room," he said.

When extreme depression hits, he said that when drugs could not help him, "I paint. I paint my problems. It gives me a sense of ultimate purpose."

"In a world hypnotized by vanity fueled with comparison, art is my escape. The inner demons call to the angels of our being. Finally all these toxic thoughts and feelings have a stage to play and become something much more than just that weight on my chest, the clenching of my fists, the tightness in my jaw. In the words of Meryl Streep 'take your broken heart and make art,'" he wrote.