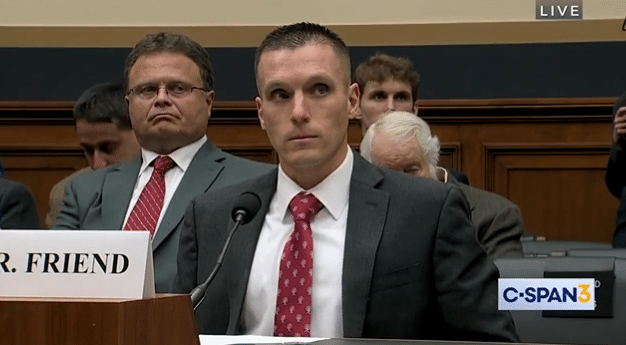 During Thursday's Congressional hearing on the Weaponization of the Federal Government, FBI whistleblower Stephen Friend testified that he was ordered to write down the license plate numbers of concerned parents who attended school board meetings.
Friend was suspended after he refused to take part in a SWAT-style raid on a January 6 suspect who was facing misdemeanor charges last summer. "I have an oath to uphold the Constitution," Mr. Friend, a 12-year veteran of the bureau, told his supervisors when he declined to participate in the raid on August 24, 2022. "I have a moral objection and want to be considered a conscientious objector."
Friend detailed the extent to which the FBI went to destroy his life after he made legally protected disclosures about the corruption, weaponization, and misconduct by the agency in conducting January 6 investigations.
"In addition to an indefinite, unpaid suspension, the FBI initiated a campaign of humiliation and intimidation to punish and pressure me to resign… leaked my private medical information to an NYT reporter."
Watch:
During questioning by Rep. Matt Gaetz (R-FL), Friend revealed that the FBI directed him to record license plate numbers from vehicles belonging to parents who attended school board meetings to voice their concerns about dangerous leftist agendas, such as Critical Race Theory and gender-theory. Friend had been one of those parents, having attended school board meetings himself to voice his concerns.
In addition, Friend testified that he was pulled from cases involving child predators in order to investigate parents at school board meetings.
Watch: