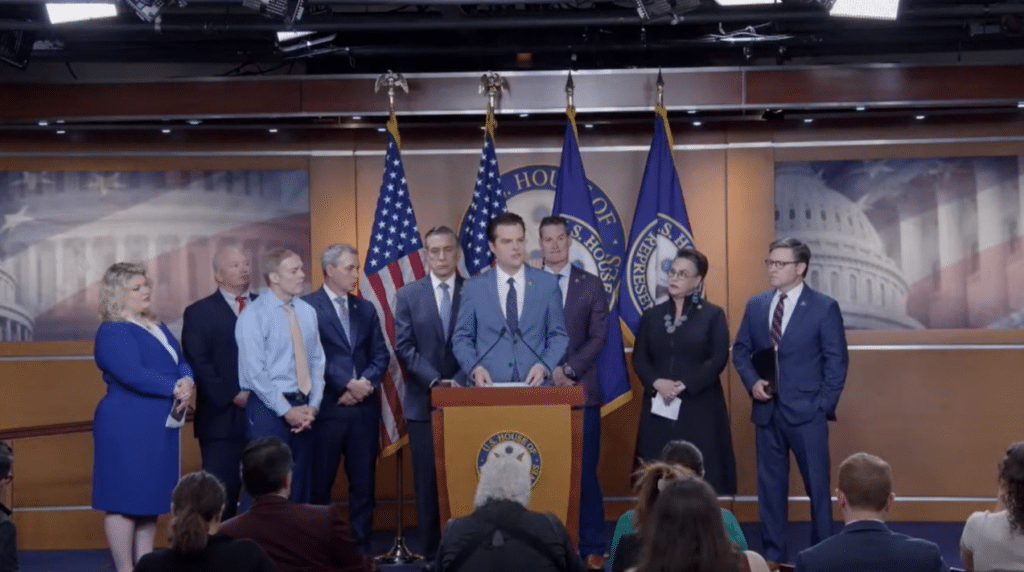 Explosive testimony from FBI whistleblowers at Thursday's Congressional hearing on the Weaponization of the Federal Government was extremely damaging to the agency and its leaders in the Democrat Party.
Perhaps the most damning testimony from the hearing was Rep. Matt Gaetz's (R-FL) revelation that "The Washington D.C. FBI Field Office confirmed that undercover officers, confidential informants, and FBI assets were present at the U.S. Capitol on January 6th".
This directly contradicts disgraced FBI Director Chris Wray's testimony.
Rep. Gaetz revealed the shocking testimony from three FBI whistleblowers in a press conference on Thursday morning.
Watch via Trending Politics on Rumble:
DC Draino tweeted: "FBI whistleblower testifies under oath that FBI won't allow 11,000+ hours of J6 footage to be released b/c it would expose undercover agents committing crimes inside Capitol Not only was J6 a Fed setup, but now it's confirmed that FBI is also covering its tracks."
Watch:
The Epoch Times reported the details of whistleblower George Hill's testimony:
"We can't show you those videos unless you can tell us the exact time and place those individuals were inside the Capitol," WFO officials responded, according to Hill.

Hill said Boston officials questioned why they could not receive access to the tranche of some 11,000 hours of footage from inside the Capitol.

"Because there may be—may be—UCs, undercover officers, or … confidential human sources, on those videos whose identity we need to protect," Washington-based officials responded.