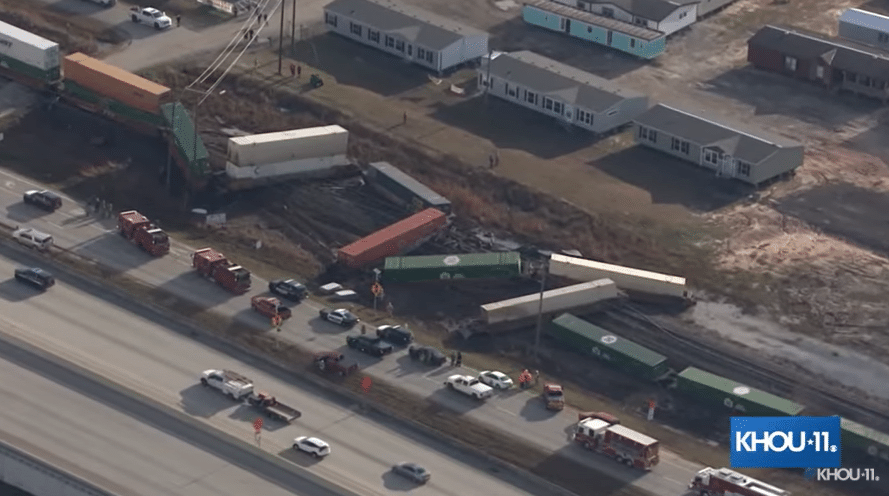 The train derailment in Ohio that happened on February 3rd is still a danger to residents near the crash site.
Residents from neighborhoods near the crash site have been evacuated because of the toxic fumes, and dead animals are being reported as far as 100 miles away.
Yet, residents are being told that it is safe to return home.
On Monday, emergency officials responded to two more train derailments. One in Texas and the other in South Carolina.
A train derailed northeast of Houston, Texas on Monday morning.
According to deputies, an 18-wheeler truck collided with the train, causing it to derail, ABC 13 Houston reported.
At least one person was killed in that crash.
That train was said to be carrying hazardous materials.
Watch:
KHOU 11 reported:
Emergency crews responded to a train derailment along the Eastex Freeway in the Splendora area Monday morning, according to the Montgomery County Sheriff's Office.

The East Montgomery County Fire Department reports a man driving an 18-wheeler involved in the crash with the train died.

This happened around 7:30 a.m. along the tracks at Midline Road. The Texas Department of Transportation said the Eastex Freeway is back open heading north in the area after being closed for a few hours.
On Monday afternoon there was another train derailment in Enoree, South Carolina.
"Officials are responding to a train derailment in Enoree on Monday afternoon." Fox Carolina reported. "CSX Transportation are also on the scene."
It's unclear at this time if that train was carrying anything dangerous.
What the hell is going on? How could this have happened once, to say nothing of THREE times?