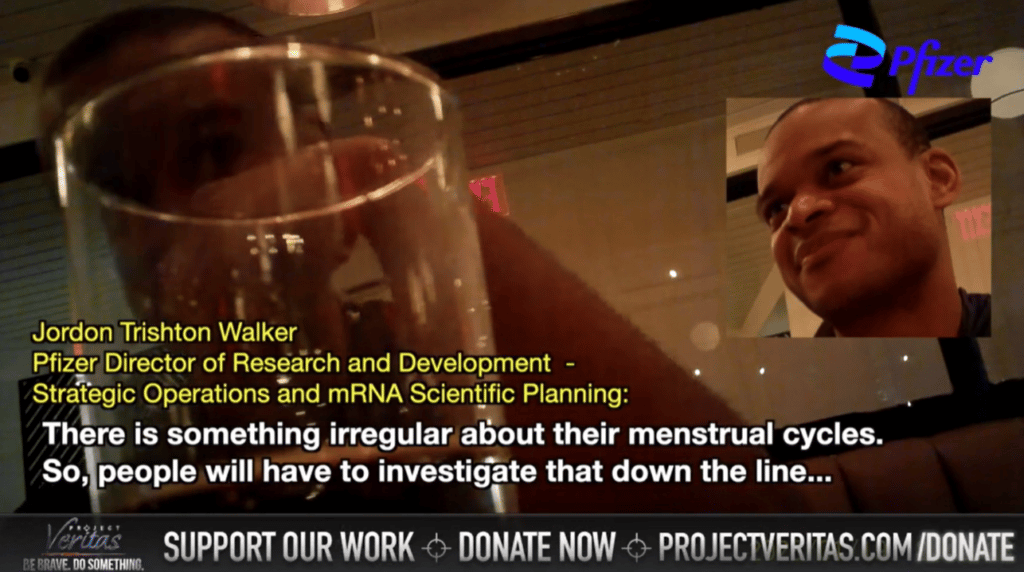 On Thursday, Project Veritas (PV) released undercover video of Pfizer Director Jordan Trishton Walker sharing his concern about women's reproductive health after getting the Covid vaccine.
Last week, PV dropped a bombshell undercover video of a Pfizer Director admitting the pharma company was experimenting with dangerous gain-of-function on COVID-19 in order to continue making money on vaccines.
"One of the things we [Pfizer] are exploring is like, why don't we just mutate it [COVID] ourselves so we could create — preemptively develop new vaccines, right? So, we have to do that. If we're gonna do that though, there's a risk of like, as you could imagine — no one wants to be having a pharma company mutating f**king viruses," Walker said.
In the latest video released by PV, Jordon Trishton Walker shared his concern over women's reproductive health after taking the COVID vaccine.
Walker also elaborates on his previous claims that Pfizer is exploring mutating COVID-19 in order to continue making money on the vaccines.
In a conversation with an undercover PV journalist, Walker admits that something is off when he analyzes the impact of the COVID vaccine.
"There is something irregular about the menstrual cycles. So, people will have to investigate that down the line," Walker said.
"The [COVID] vaccine shouldn't be interfering with that [menstrual cycles]. So, we don't really know," he said.
The Pfizer Director appears to be worried that over time, more information may become known about the COVID vaccine's potential side effects.
"I hope we don't find out that somehow this mRNA lingers in the body and like — because it has to be affecting something hormonal to impact menstrual cycles," he said.
"I hope we don't discover something really bad down the line…If something were to happen downstream and it was, like, really bad? I mean, the scale of that scandal would be enormous."
Watch: