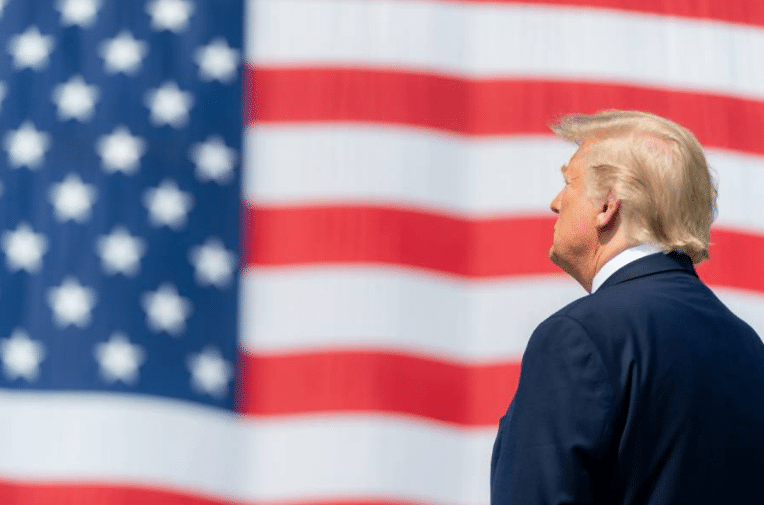 The phony "deadly insurrection" narrative is quickly unraveling.
On Monday evening, Fox News's Tucker Carlson began releasing January 6 surveillance footage that has been hidden from the American public.
Carlson showed footage of Officer Brian Sicknick walking around the Capitol after he was supposed to have been murdered by Trump supporters.
Carlson showed footage that proves Ray Epps perjured himself in sworn testimony to the J6 Committee.
Carlson also showed footage of Jacob Chansley, aka the QAnon Shaman, being escorted through the Capitol by police the entire time he was in the building as if they were his tour guides.
Chansley is serving a 41-month sentence for his "crimes", although he committed no crimes.
Liz Cheney, Adam Kinzinger, Nancy Pelosi, and the mainstream media lied about what really happened on January 6. They deliberately hid evidence from the American public because it shows the truth.
The new footage being released is irrefutable and shows that the entire "deadly insurrection" narrative was a scam and a lie.
President Trump responded on Truth with multiple posts.
Trump praised Carlson and Speaker McCarthy, blasted the J6 "Unselect Committee" for their treasonous lies, and called for the J6 political prisoners to be released.
"Congratulations to Tucker Carlson on one of the biggest "scoops" as a reporter in U.S. history. The New Surveillance Footage of the January 6th Events sheds an entirely different light on what actually happened. The Unselect Committee was a giant SCAM, and has now unequivocally been stamped as CRIMINAL FABRICATORS OF THIS MOST IMPORTANT DAY. Pelosi & McConnell failed on security. The Police story is sad and difficult to watch. "Trump" and most others are totally innocent, LET THEM GO FREE, NOW!" Trump said.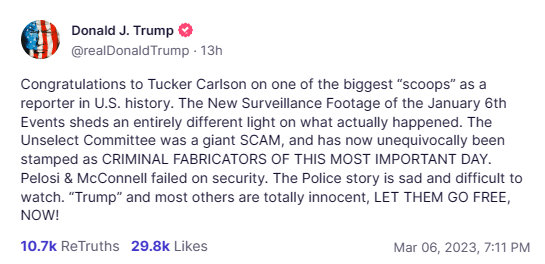 Great courage shown by Speaker of the House Kevin McCarthy in releasing the surveillance footage to Tucker Carlson so that our Country, and indeed the World, can see what really went on during the January 6th events. A whole new, and completely opposite, picture has now been indelibly painted. The Unselect Committee LIED, and should be prosecuted for their actions. Nancy & Mitch were a disaster on Security. Thank you Kevin and Tucker. FREE AT LAST!!!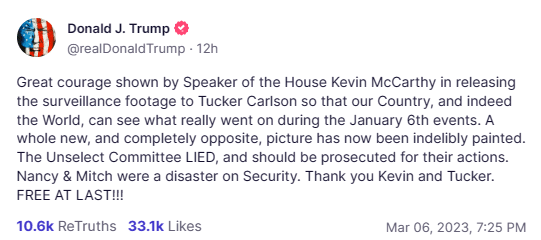 LET THE JANUARY 6 PRISONERS GO. THEY WERE CONVICTED, OR ARE AWAITING TRIAL, BASED ON A GIANT LIE, A RADICAL LEFT CON JOB. THANK YOU TO TUCKER CARLSON AND SPEAKER OF THE HOUSE KEVIN McCARTHY FOR WHAT YOU BOTH HAVE DONE. NEW VIDEO FOOTAGE IS IRREFUTABLE!!!