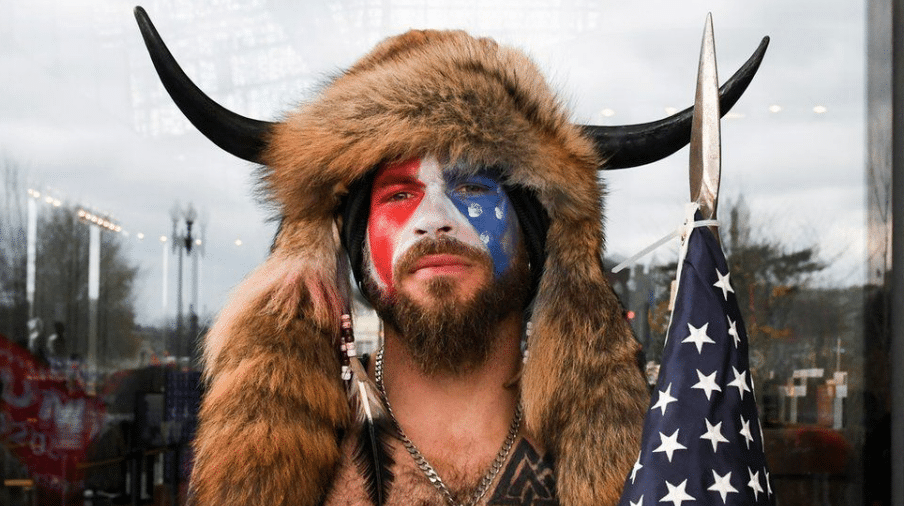 Tucker Carlson dropped bombshell Jan 6th footage on Monday night.
One of the bombshell clips showed that Capitol Police casually and peacefully escorted Jacob Chansley, aka the QAnon Shaman, the entire time he was in the building. The video shows that Chansley was not violent and committed no crimes.
Chansley has been sentenced to 41 months in prison.
His attorney reacted to the bombshell footage in a series of tweets.
My client, Jake Chansley, was a big part of Tucker's first big rollout of video tonight. There is a story beyond just the fact that the Govt had video Jake's attorney never looked at. Jake is set to be released from custody soon.
He's going to tell his story. But Jake has also committed himself to helping me raise money so I can get into cases for J6 defendants earlier than I was able to get into his. I've spend 20 or more hours talking to Jake by phone.
He's a very interesting young man and I look forward to meeting him in person. It is quite fortuitous that these videos are coming out around the same time as he might first be able to address them himself.
This is the way I'm able to help Jake — I've never asked him for a [singe] dollar — and other J6 defendants. Generous contributors are helping them.
Will the liars behind the phony "deadly insurrection" be brought to justice?