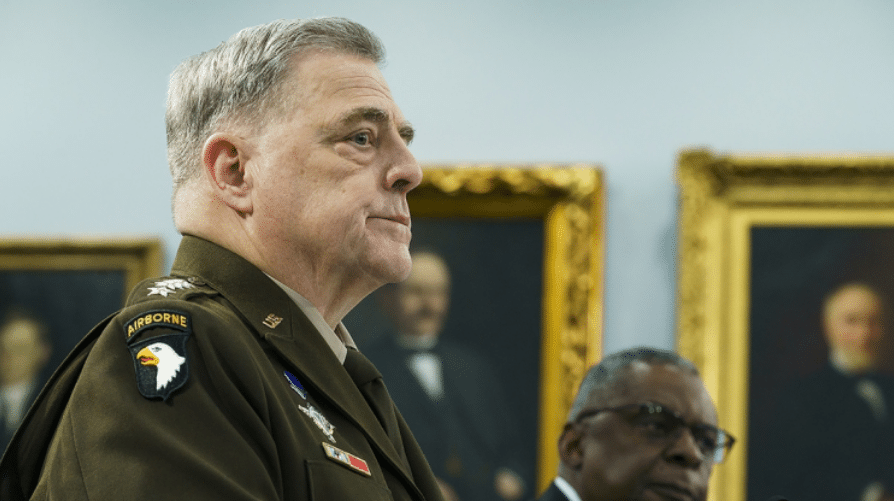 General Mark Milley, who currently serves as the Chairman of the Joint Chiefs of Staff, is stepping down from the highest-ranking military post in the nation at midnight on September 30. He will be succeeded by General Charles Q. Brown Jr., who was nominated by President Biden.
On his final departure from the Pentagon on Thursday, General Milley received a farewell send-off, commonly known as a "clapout."
Watch:
General Mark Milley, the 20th Chairman of the Joint Chiefs, receives a clap out as he left the Pentagon today for the last time. He retires tomorrow. Gen CQ Brown will begin work at midnight Sunday. pic.twitter.com/SCOU6d7Mag

— Jennifer Griffin (@JenGriffinFNC) September 28, 2023
General Mark Milley's tenure, which started in 2019 under President Trump's administration, was marked by a series of tumultuous events, military setbacks, and corruption.
Throughout his time in office, General Milley faced unprecedented challenges, including the Capitol riots, the COVID-19 pandemic, the botched withdrawal from Afghanistan, Russia-Ukraine proxy war, Chinese spy balloons, and the June 2020 Antifa/BLM riots that Democrats referred to as the "Summer of Love."
General Milley gained notoriety for surrendering Afghanistan, leaving the Taliban $85 billion worth of U.S. military equipment. Before surrendering Afghanistan, the Biden administration equipped the Taliban with an estimated $80 billion in U.S. weaponry, a figure never officially acknowledged by the White House or the Pentagon.
In addition to these controversies, General Milley had secret phone calls with China, where he promised to give them advance notice in the event of a U.S. attack. This is a clear act of treason, yet he was never punished.
According to the book "Peril" authored by Bob Woodward, General Milley, as Chairman of the Joint Chiefs of Staff, reportedly had secret phone conversations with his Chinese counterpart, General Li Zuocheng of the PLA, assuring them that the U.S. would not strike.
On January 8, 2021, the same day General Milley had a secret call with China, CNN ran a story suggesting that Speaker Pelosi had received assurances from Milley about safeguards in place in case President Trump contemplated launching a nuclear strike.
In 2021, General Milley testified before the Senate Armed Services Committee and defended his actions in promising to warn the CCP of a possible attack.
"My oath is to support the Constitution of the United States of America against enemies foreign and domestic," he said.
Watch:
Gen. Milley justifies his secret call to China:

"My oath is to support the Constitution of the United States of America against enemies foreign and domestic." pic.twitter.com/11JsoBNdpL

— Danny De Urbina (@dannydeurbina) September 28, 2021
Good riddance.
Earlier this year, Rep. Paul Gosar (R-AZ) spearheaded an investigation into General Mark Milley and Nancy Pelosi.
On January 7th, Gosar tweeted, "Remember – we will conduct a real investigation into J6. The effort to attempt a coup between traitor Gen. Mark Milley and Pelosi will be reviewed and exposed."
Gosar continued, "Milleys treasonous sell-out to China will be investigated. Pelosi not warning members about intel of impending violence will be exposed."
Rep. Gosar continued his series of tweets by writing, "Soon, we'll know the truth."