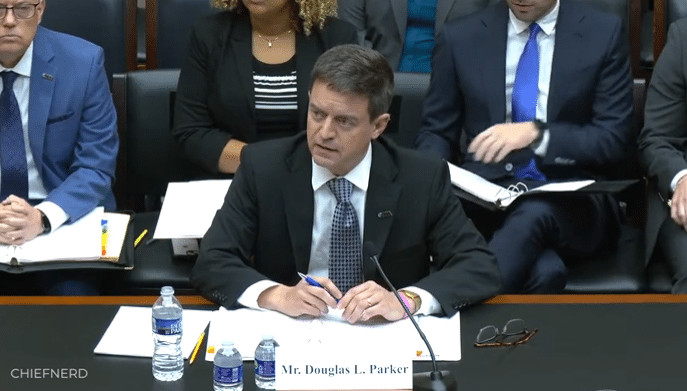 During a Congressional hearing held on Wednesday before the Subcommittee on Workforce Protections within the Committee on Education and the Workforce, Douglas L. Parker, the Assistant Secretary of the Occupational Safety and Health Administration (OSHA), faced rigorous questioning from Rep. Mary Miller (R-IL) and Rep. Kevin Kiley (R-CA) concerning the agency's controversial vaccine mandate. This mandate, which was ultimately struck down by the Supreme Court, would have impacted approximately 84 million Americans.
Rep. Mary Miller began her questioning by referencing OSHA's emergency temporary standard issued in November 2021. This standard would have required businesses with 100 or more employees to mandate COVID-19 vaccinations or enforce regular testing for their employees.
The OSHA Vaccination and Testing Emergency Temporary Standard, often abbreviated as the OSHA Vaccination and Testing ETS, pertains to the Occupational Safety and Health Administration's temporary emergency standard designed to protect unvaccinated employees of larger employers (those with 100 or more employees) from the potential transmission of COVID-19 within the workplace.
This ETS requires that covered employers implement a "mandatory COVID-19 vaccination policy" unless they offer employees the choice between vaccination and regular COVID-19 testing, along with the use of face coverings while at work. Additionally, it requires employers to ascertain the vaccination status of each employee, allow time for vaccination, conduct weekly COVID-19 testing for unvaccinated staff, enforce the use of indoor face coverings, report COVID-19-related fatalities and hospitalizations to OSHA, and make records accessible for inspection.
Rep. Miller asked Parker whether OSHA had the power to force 84 million Americans to take an experimental vaccine. Parker responded by acknowledging that the Supreme Court had already struck down the mandate.
Miller shot back, "Thank God the Supreme Court ruled on that and stopped you from doing that. You're an unelected bureaucrat, and you do not have the power to force 84 million people to take an experimental vaccine or show their papers. You tried to fire 84 million American workers, but do you believe the court was wrong?"
Miller also brought up a statement Parker made to Reuters after the Supreme Court's decision, in which he said the decision was "unfortunate" but that it wouldn't stop OSHA from pressing employers to take adaptive measures.
Miller accused OSHA of continuing to threaten companies to impose the vaccine mandate despite the Supreme Court's decision.
She then asked Parker what Joe Biden's and OSHA's plan was if 84 million Americans had refused to comply with the vaccine mandate or to show their papers.
Parker denied the allegations, asserting, "That's categorically untrue. We didn't threaten anyone, and we didn't demand that anyone be fired."
"You absolutely were promoting that. The Supreme Court stopped you. Thank God. And in light of considering what would have happened if Americans refused to comply, what was your plan?" asked Miller.
Rep. Mary Miller concluded her questioning by announcing her intention to introduce amendments to strip OSHA of its power and funding.
'I'd just like to say you are inept. It would have terrorized our economy if the American workers refused to comply, and it would have put 84 million American workers out of work."
"I'm going to introduce amendments to strip you of your power and funding to protect the 84 million Americans who do not want to show you their vaccine papers and to protect farmers who feed Americans. Mr. Chairman, OSHA needs to be reined in. They have gone far beyond their minor, limited mission," Miller said.
Rep. Kevin Kiley pressed Parker further, asking what would have happened to employees who did not comply with the rule.
Parker's response was vague, with him eventually claiming that it was "up to the employer" and that the rule "didn't prescribe any remedies in the rule."
Kiley criticized Parker and other administration officials for what he described as attempts to "rewrite history," citing previous testimonies from the Secretary of Education and the Secretary of Health and Human Services that were misleading or blatant lies.
"Mr. Parker, you're one of a number, now, of officials in this administration who has come before this committee and tried to tell us that two plus two doesn't equal four," said Kiley. "Now, you come before us today, asked about one of the most sweeping abuses of power that we've seen, that was rebuked by the Supreme Court, and you tell us that 'we didn't demand that anyone be fired.' Has there been some sort of memo going around? Why is the administration insistent on rewriting history?"
Parker continued to deny that it was a mandate, saying, "All you have to do is read that rule, and you will see that it is not a vaccine mandate. It gives employees the option of testing in lieu of a vaccine mandate."
Watch:
NEW – OSHA Head, Doug Parker, Now Says 'We Didn't Demand That Anyone Be Fired' Despite Issuing a Vaccine Mandate for 84 Million Americans

PARKER: "We didn't threaten anyone but there were companies that were looking forward to clarity from the government about these rules…We… pic.twitter.com/27CLkllwkx

— Chief Nerd (@TheChiefNerd) September 28, 2023
Watch the full hearing here.