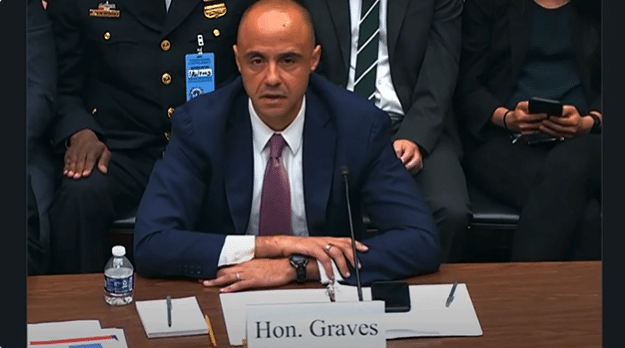 During the Oversight and Accountability Committee's second hearing on Tuesday, Rep. Marjorie Taylor Greene (R-GA) revealed that she will be introducing articles of impeachment against US Attorney for Washington, DC Matthew Graves, who served as January 6 lead prosecutor.
"The time for weaponizing the Department of Justice needs to come to an end," Greene revealed, adding that Graves refuses to prosecute "violent criminals in DC" but abuses his power by "maliciously prosecuting non-violent J6 protestors."
"And you want to talk about DC residents? They are victims of your abuse of power. And because of that, I am introducing articles of impeachment on you, Mr. Graves," she added.
Greene confronted Graves about J6 defendant Matthew Perna, who was inside the US Capitol for 20 minutes and was never accused of a violent crime or vandalism. He walked inside the US Capitol peacefully.
In December Perna, 37, pleaded guilty to felony obstruction of Congress and three misdemeanor charges associated with entering the Capitol.
Tragically, Perna later killed himself as a result of the made-up charges against him.
"A man named Matthew Perna, who had no criminal record, peacefully entered the Capitol through an open door on January 6. He stayed inside for roughly 20 minutes," said Greene.
"He didn't assault anyone, not a police officer, anyone. He didn't damage any property. He fully cooperated with the FBI and eventually plead guilty to all charges. But right before his sentencing, you, Mr. Graves, asked the judge for more time to object to the presentence report. By the way, while you weren't prosecuting many of the crimes in DC."
Watch:
House Republicans blasted Graves for his low prosecution rate on real criminals, while at the same time maliciously prosecuting non-violent protestors from January 6.
According to the DC Police Chief Robert Contee, the average homicide suspect has been arrested on average 11 times before committing homicide.
When asked by Rep. Jake LaTurner (R-KS) how many of the alleged criminals he declined to prosecute went on to commit murder, Graves said he has no idea.
Watch:
Rep. Nancy Mace (R-SC) called Graves out for being soft on real violent criminals in DC.
"Why are you bringing only a third of the cases brought to you? Why is the DC Police Chief Contee literally calling bullshit on your excuses for not prosecuting 67% of arrests? Was he fearmongering?", said Mace.
Watch:
Rep. Andy Biggs (R-AZ) confronted Graves about his harsh treatment of 70-year-old January 6th defendant Thomas Caldwell who did not enter the Capitol and did not commit any violent crimes, yet Graves is asking a judge to sentence him to 14 years in prison.
Watch: