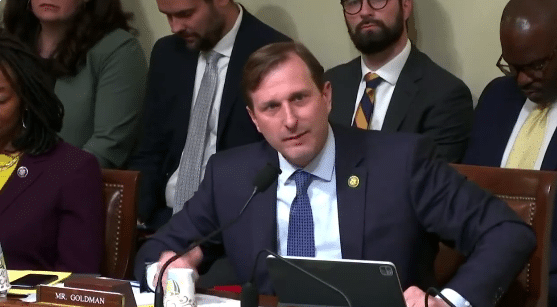 Rep. Dan Goldman (D-NY), quite possibly the most arrogant and condescending member of Congress, has a passion for lecturing and mocking anyone who dares to deviate from the Democrats' approved narrative.
Conservative journalist Julio Rosas absolutely destroyed Rep. Goldman during a hearing on Tuesday.
Rosas, a senior writer for Townhall, provided front-line coverage of the BLM/Antifa riots of 2020.
Rep. Goldman mocked and attacked Rosas' credentials and attempted to downplay the level of violence at Antifa/BLM riots in 2020.
During the hearing, Rep. Goldman accused Rosas of trying to "gaslight" the committee on the violence of left-wing riots and claimed that Antifa does not exist. "As if Antifa, which Mr. Rosas, apparently the expert now in organized terrorist activity, has overruled the FBI director who says, there's a headline 'Antifa is an ideology, not an organization,'" Goldman ranted. "No, no, no, let's not listen to the FBI Director, let's listen to… I'm sorry, what's your title? Senior writer at Townhall," he continued, mocking Rosas' title.
Goldman quoted a 2021 statement from disgraced FBI Director Wray in which he claimed that Antifa was an ideology, not an organized group. Wray has since walked back that claim and admitted that Antifa is organized at the regional level, something Goldman conveniently failed to acknowledge during the hearing.
Rosas, who also served in the U.S. Marine Corps, was not having any of Goldman's nonsense.
RedState reported:
Obnoxious Tool Daniel Goldman Attacks Julio Rosas, Gets Set on Fire in Response

While questioning Julio Rosas, a senior editor for Townhall and an on-the-ground reporter, Goldman decided to lecture Rosas on credibility. To do so, he denied the existence of Antifa as an organization and quoted the current FBI director as his authority…

In all his ranting and downplaying of Rosas' background, Goldman forgot to mention that Rosas is also a U.S. Marine. That would seem sort of relevant to his work experience, especially when speaking to his credibility and ability to cover dangerous, left-wing riots (which he's done admirably and fairly). That was the first clown move by Goldman.

The second clown move was using a quote from Christopher Wray to claim that Antifa only exists as an "ideology." What Goldman didn't mention is that his quote is nearly three years old. Wray did claim that Antifa is only an ideology in one of the dumbest pieces of testimony he's offered before Congress.

What he also did, and what Goldman ignored, is that Wray corrected his error in 2021, admitting that Antifa exists as a series of regional organizations and nodes. In other words, the idea that Antifa only exists as a nebulous ideology is not only false, Goldman's own source has said it's false.
Watch: