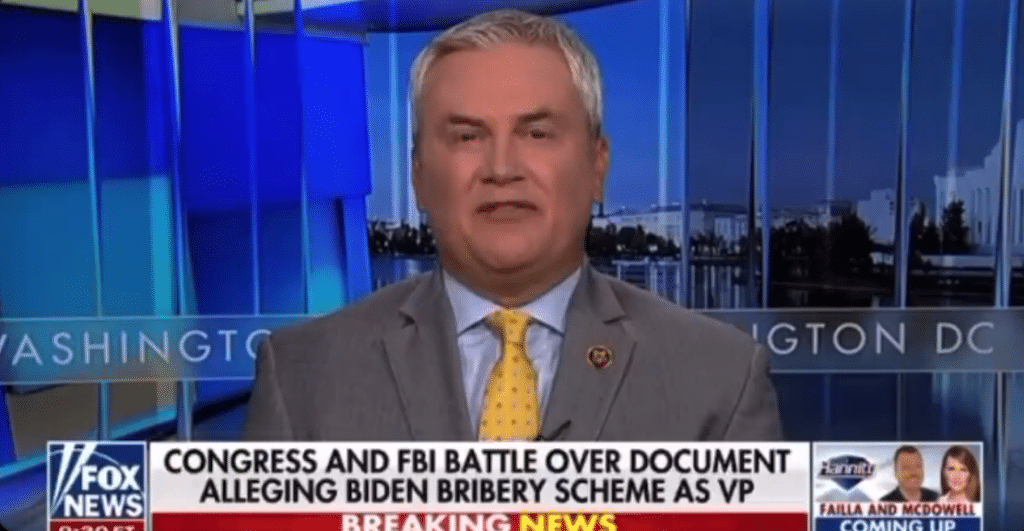 Biden's FBI has defied a subpoena issued by the House Oversight Committee to produce a document that alleges Joe Biden was part of a criminal bribery scheme with a foreign national back when he was vice president under Barack Obama.
On Wednesday, House Oversight Committee Chairman James Comer (R-KY) sent a letter to FBI Director Christopher Wray threatening him with contempt of Congress charges if he refuses to turn over by next week the subpoenaed FBI form FD-1023.
The document describes, in detail, how Biden accepted money in exchange for foreign policy decisions.
Rep. Comer's letter stated that the FBI has until May 30 to comply with the subpoena or the House Oversight Committee will "initiate contempt of Congress proceedings."
Contempt of Congress is when someone intentionally interferes with congressional action. A Congressional Research Service report says a witness must be voted in contempt by the committee seeking testimony or information. Then it is brought to a full vote before the House or Senate, depending on the classification of the committee.
Two things were revealed from Comer's letter. In discussing the FBI's complaint that the search terms for the document were too broad, Comer said he gave them additional terms, including "five million", saying that was the dollar amount of the alleged bribe paid to Biden. The other revelation was that the FBI told the committee that it had "many" CHS (confidential human source) reports on Biden for the time period in question — June 2020.
"While that new information was alarming, committee counsel offered to limit the subpoena to be even more precise," Comer wrote, adding that FBI staff "responded that such a limitation as unnecessary because they knew which document was responsive to the subpoena, yet simultaneously would not acknowledge that document's existence."
Fox News reported:
In a letter sent Wednesday to FBI Director Christopher Wray, Comer said the FBI has "failed to produce the FD-1023 form or offer any reasonable accommodation that would allow the Committee to review the document."

Comer's letter gave the FBI until May 30 to comply with the subpoena for the document, and warned that without compliance, the House Oversight Committee will "initiate contempt of Congress proceedings."

The document is being sought after a whistleblower approached Comer and Sen. Chuck Grassley, R-Iowa, alleging that the FBI and the Justice Department were in possession of it, and that it would reveal "a precise description of how the alleged criminal scheme was employed as well as its purpose."

Instead of complying with the subpoena, the FBI instead told Comer on May 10 that it needs to protect the bureau's confidential human source program. Since then, House Oversight and Accountability Committee counsel has attended two meetings at FBI headquarters with FBI staff this month.

"Similar to the May 15 meeting, FBI staff was not authorized to even acknowledge the existence of the FD-1023 form," Comer wrote, detailing the committee's second meeting at FBI headquarters on Monday. "There was only one substantive comment regarding the subpoena."

Comer explained that FBI staff indicated that the "search terms were broad" in the committee's initial subpoena, and told counsel that "there were many responsive documents containing the term 'Biden' in its CHS database for that month.

"While that new information was alarming, committee counsel offered to limit the subpoena to be even more precise," Comer wrote Wednesday to Wray. He added that FBI staff "responded that such a limitation as unnecessary because they knew which document was responsive to the subpoena, yet simultaneously would not acknowledge that document's existence."

"The FBI's gamesmanship in holding a meeting about general CHS confidentiality issues — instead of addressing the specific FD-1023 form the Committee subpoenaed — is unacceptable," Comer wrote, adding that the bureau's "refusal" to produce "this single document is obstructionist."

Comer told Wray that to "narrow the breadth of the subpoena" in response to FBI staff criticisms, the committee determined "additional terms based on unclassified legally protected whistleblower disclosures that may be referenced in the FD-1023 form."

The terms included "June 30, 2020" and "five million."

"These terms relate to the date of the FD-1023 form and its reference to the amount of money the foreign national allegedly paid to receive the desired policy outcome," Comer explained. "Given the large number of FD-1023 forms with the word 'Biden' in June 2020, these terms should assist the FBI in identifying the specific FD-1023 form at issue."
Watch: