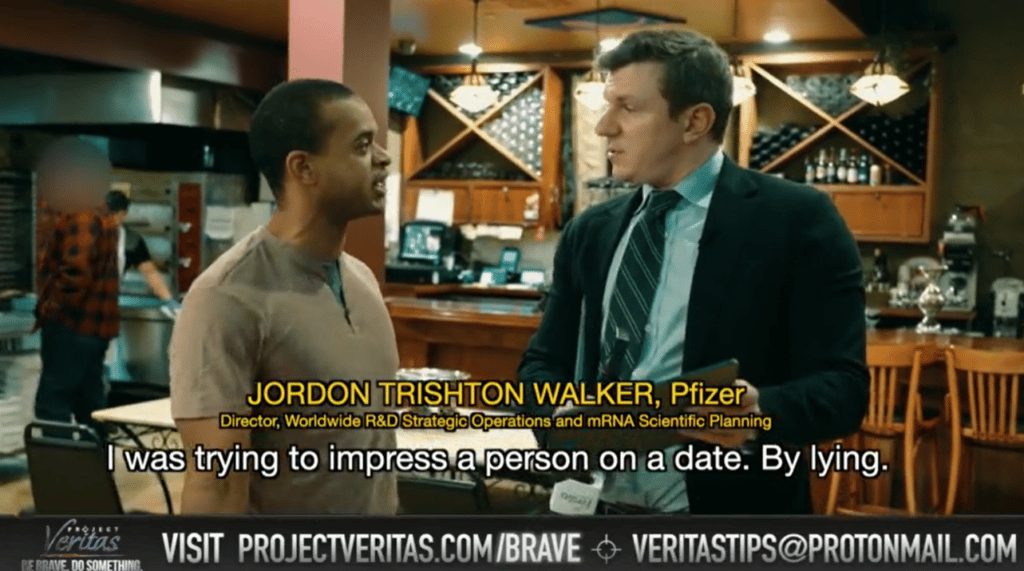 Breaking Digest reported earlier today that Project Veritas (PV) released an undercover video of Pfizer Director of Research and Development, Strategic Operations, Jordon Trishton Walker, admitting that Pfizer is exploring "mutating" Covid-19 via "directed evolution" so that company can continue to profit from the vaccines.
James O'Keefe confronted Walker at a restaurant and showed him the undercover recordings about Pfizer's plans to potentially mutate the Covid virus.
Walker had one of the most bizarre and emotional reactions to being confronted and ended up physically assaulting James O'Keefe and PV staffers.
"I'm just someone who's working in a company that's trying to literally help the public," Walker said during the confrontation.
Walker insisted he was lying and just "trying to impress his date."
"I'm literally a liar," Walker said.
"You f*cked up!" Walker shouted before destroying the iPad showing the PV undercover recordings about the "mutating" Covid virus.
Walker called the police to report that five "white people" were there with cameras asking him questions, yet repeatedly demanded that James O'Keefe and the PV staffers not be allowed to leave because he wanted them there when the police arrived.
Somehow the door to the restaurant became locked and neither the owner nor the other restaurant staff would unlock it to allow O'Keefe, the other Project Veritas staffers or the other patrons to leave.
The NYPD responded to the assault.
Watch:
Rumble backup: