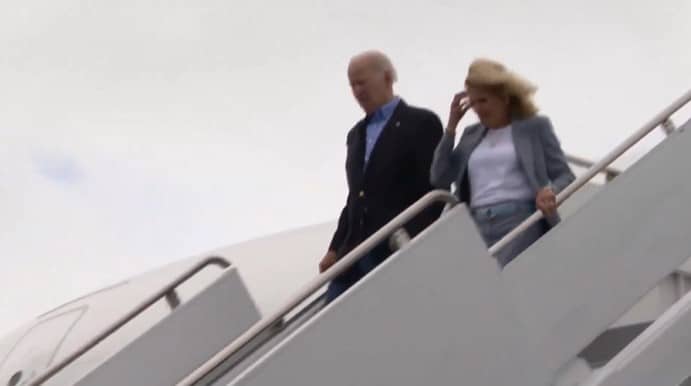 On Monday, Joe Biden arrived in Maui to assess the aftermath of the deadly fires that destroyed the historic town of Lahaina two weeks ago.
The death toll has surpassed 100, with almost 1,000 people still missing due to the delayed response of both state and federal authorities.
Corrupt and inept Democrat officials in Hawaii delayed the release of water and neglected to activate life-saving sirens during the devastating fires.
Joe Biden has been on two consecutive vacations over the past few weeks, while callously refusing to comment on the deadly fires while enjoying his time at the beach.
After sending over $100 billion to Ukraine, Biden offered an insulting one-time payment of $700 per household to those affected by the Maui fires.
Biden is scheduled to spend merely 6 hours in Hawaii before heading back to Lake Tahoe to continue his second vacation of the month.
After getting off the plane, Joe Biden couldn't be bothered to take any questions.
Watch:
Protesters displayed signs with the messages "He's too late" and "Actions speak louder than words."
A Maui resident hung the U.S. flags upside down and placed a sign in their yard that read "Traitor Joe Must Go!!"
Watch: