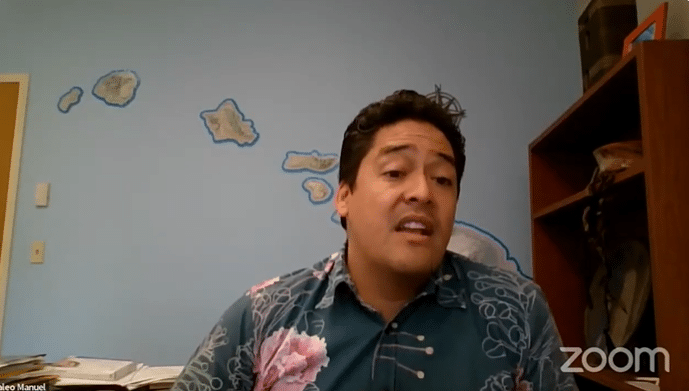 The catastrophic fires that raged across Maui were due to a concerning combination of liberalism, corruption, and lack of experience.
Residents of Maui begged for vital water from the West Maui stream to be used to fight the deadly fires, only to be denied.
As reported by the Honolulu Star-Advertiser on Wednesday, an official plea to redirect the water was ignored for several hours by Deputy Director M. Kaleo Manuel of the Hawaii Commission on Water Resource Management (CWRM). Additionally, troubling revelations about Manuel's background are surfacing.
A letter from Glenn Tremble of the West Maui Land Company, obtained by the paper, offers significant insights into the timeline of the fire. Although the fire had been contained by 9 A.M. local time, unfavorable weather conditions and dwindling reservoir levels prompted the request for stream water to bolster firefighting efforts.
The reservoirs were to be filled by 1 P.M. However, Manuel delayed action until 6 P.M., ultimately leading to the once-contained fire spiraling into an uncontrollable blaze.
From the Honolulu Star-Advertiser:
Instead of approving the request, CWRM asked the company whether the Maui Fire Department had requested permission to dip into the reservoirs and directed it to first inquire with the downstream user to ensure that his loi and other uses would not be impacted by a temporary reduction of water supply.

Communications were spotty, the letter said, and the company had already tried unsuccessfully to contact the one downstream user.

At around 6:00 p.m., we received CWRM's approval to divert more water," Tremble wrote. "By then, we were unable to reach the siphon release to make the adjustments that would have allowed more water to fill our reservoirs.

We watched the devastation unfold around us without the ability to help. We anxiously awaited the morning knowing that we could have made more water available to MFD if our request had been immediately approved.
It gets worse.
GOP Presidential candidate Vivek Ramaswamy shared in an X post on Thursday, exposing Manuel as an "Asia Pacific Leader" for the Obama Foundation and also a radical climate activist.
There's a dark but hard TRUTH to the Maui catastrophe that has led to over 110 tragic deaths. As wildfires raged, desperate residents petitioned state officials to send more water for firefighting & to help protect their properties from fire. That request went unanswered for hours, withholding critical aid to islanders. Now we're learning that the official who delayed the approval is an Obama Foundation "Asia Pacific Leader" & a climate activist who believes water should be "revered" first and foremost. The DEI agenda is literally costing people their lives. Hawaii's Democrat governor, Josh Green, says there are people "fighting against the release of water to fight fires" & that it needs to be explored further. The No. 1 responsibility of government is to protect its citizens. The victims and their families deserve the TRUTH.
Here is Manuel, in a recent video, explaining his radical stance on water management, saying that water "requires true conversations about equity."
Wow.
Watch:
Transcript of the above video:
The commission is responsible, per our authorizing statute, to protect and manage all water resources in the state. One water is looking at it from a holistic system perspective, and that's not any different than how Hawaiians traditionally manage water.

You know, in essence we treated, Native Hawaiians, treated water as one of the earthly manifestations of a God… and so that reverence for a resource and that reciprocity in relationship was something that was really, really important to our worldview and well-being, right? Living in an island and isolated from other civilizations.

So I think where it shifted to today or over time is that we've become used to looking at water as, like something which we use and not necessarily something that we revere as that thing that gives us life, right?

I mean, to me it's a shift in value set, and if we can start to really look at how we as humans, in an island, can reconnect to that traditional value set. So really my motto is always like, let water connect us and not divide us. Like, we can share it, but it requires true conversations about equity.