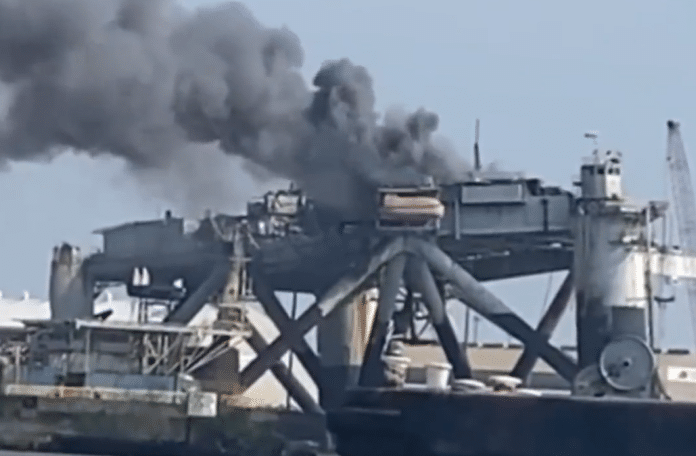 Emergency crews responded to a massive fire at a multi-story oil rig in Mobile, Alabama Wednesday afternoon.
The fire reportedly started while workers were removing a decommissioned rig near the Mobile River.
According to a statement from Mobile Fire-Rescue posted to Facebook, the rig contains diesel, hydraulic fluid, and oil with other potential hazards.
The cause of the fire is still unknown.
Mobile Fire-Rescue statement via Facebook:
1:48P: #MFRD units are on scene of a 2-alarm structure fire at 400 Dunlap Drive. Multiple companies arrived on scene to discover an multi-story, oil rig-like structure with heavy smoke and flames present.

The rig contains diesel, hydraulic fluid, and oil with other potential hazards on board. Crews are working in tandem to mitigate the incident as quickly as possible. This is a developing scene.

…

***UPDATE (6:18P)***: Incident successfully mitigated. All MFRD crews are clearing the scene. Shipyard personnel will assume firewatch through the evening.

This was a tremendous efford by all the crews and command and support staff involved. Thank you to U.S. Coast Guard Sector Mobile, Mobile County EMA, and shipyard personnel for your assistance in a successful operation.

With more than 55 firefighters on scene, there were no injuries sustained, and no shipyard personnel were harmed as a result of the incident. (Photography credit: MFRD J. HALLER, S. GRIZZLE, C. HINES, C. WATSON)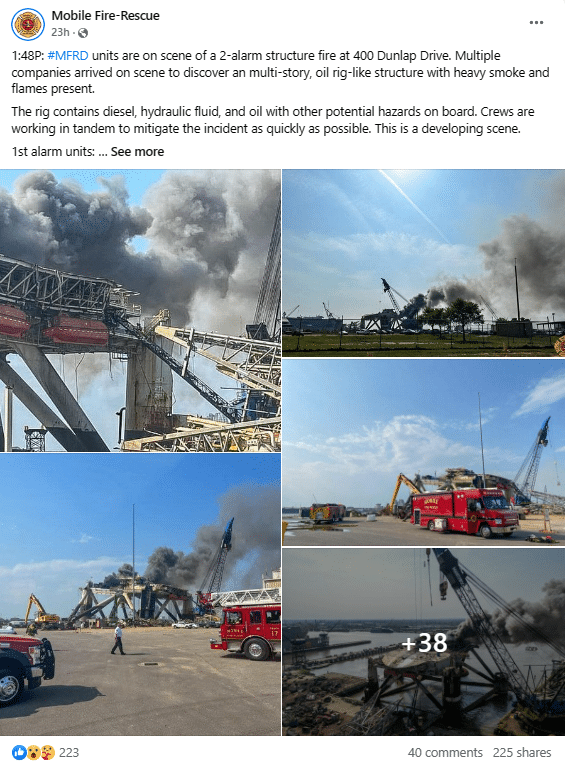 WKRG 5 reported:
Mobile Fire-Rescue confirmed no one was injured. The fire was started on a decommissioned oil rig.

MFRD said "they are concerned about the environmental effects" and Mobile County EMA has been notified. They also requested the Alabama Department of Environmental Management.

The Coast Guard is on scene assessing the situation.

There are still some flames visible inside some compartments on the top of the structure.

MFRD said there is "no risk to anyone in the area" but remain concerned about the "potential hazards" to the environment.
Watch: