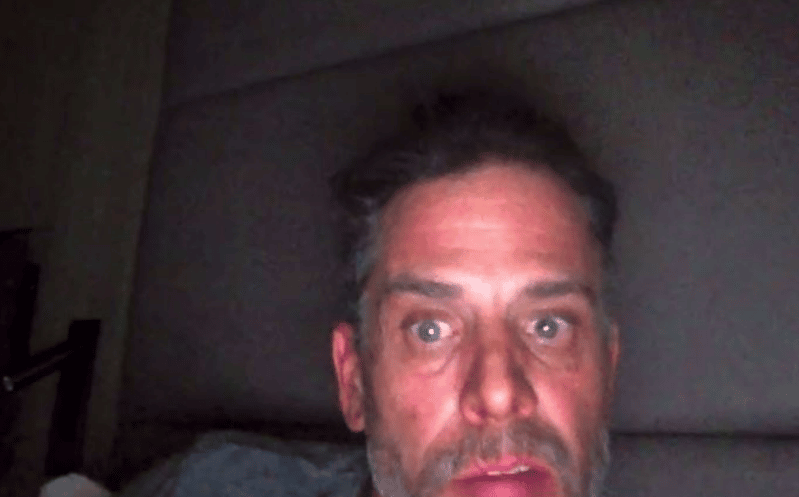 Hunter Biden is begging the Federal Government and the Delaware AG to go after individuals who shared personal information from his laptop.
In doing so, Hunter has admitted that the contents of "the laptop from hell" are real and belong to him as he claimed the data was "stolen" from him.
Hunter Biden is going after John Paul Mac Isaac, Rudy Giuliani, his attorney Robert Costello, Stephen K. Bannon, Garrett Ziegler, Jack Maxey and Yaacov Apelbaum.
One letter was sent on Wednesday to the Justice Department's National Security Division begging for an investigation into "individuals for whom there is considerable reason to believe violated various federal laws in accessing, copying, manipulating, and/or disseminating Mr. Biden's personal computer data."
Hunter's lawyers also sent a letter to Fox News and host Tucker Carlson demanding a retraction of "false and defamatory statements made by Mr. Carlson on his show" about Joe Biden's son.
Hunter Biden lost custody of his computers after he abandoned them at a computer repair shop owned by John Paul Mac Isaac in Delaware in April 2019.
NBC reported:
Lawyers for Hunter Biden sent letters Wednesday requesting investigations into allies of former President Donald Trump who they say trafficked in stolen information from his laptop — a dramatic shift in strategy for the president's son after years of GOP attacks.

Hunter Biden lawyers wrote a similar letter to the Delaware attorney general's office, requesting a probe into the same people for allegedly violating "various Delaware laws" in accessing Biden's information from what Trump has called "the laptop from hell."

The Justice Department declined to comment. A spokesperson for the Delaware attorney's general did not immediately respond to a request for comment.

Information from the laptop has raised questions about Biden's finances, which have been separately under investigation by federal prosecutors in Delaware since 2018. They've also been the source of several salacious stories from conservative media outlets, many focused on his drug use.
According to a person close to the matter, Hunter is tired of being "picked on" and is going on the offensive.
An article from CBS News includes links to the letters the Hunter team sent out Wednesday.
The flurry of letters to the Delaware attorney general, the Department of Justice, the I.R.S. and attorneys for Fox News and Carlson represent an aggressive new strategy for the president's son, who is facing long-running federal criminal investigations, as well as new probes promised by congressional Republicans, according to a source familiar with Biden's approach.

"This marks a new approach by Hunter Biden and his team," the source told CBS News. "He is not going to sit quietly by as questionable characters continue to violate his rights and media organizations peddling in lies try to defame him."
Associated Press reported:
Lawyers for President Joe Biden's son, Hunter, have asked the Justice Department to investigate close allies of former President Donald Trump and others who they say accessed and disseminated personal data from a laptop that he dropped off at a Delaware computer repair shop in 2019.

In a separate letter, Biden's attorneys have also asked Fox News host Tucker Carlson to retract and apologize for what they say are false and defamatory claims made repeatedly about him on-air, including implying without evidence that he had unauthorized access to classified documents found at his father's home.

The request for a criminal inquiry, which comes as Hunter Biden faces his own tax evasion investigation by the Justice Department, has no practical impact and does not commit federal prosecutors to take any action. But it nonetheless represents a concerted shift in strategy and a rare public response by the younger Biden and his legal team to years of attacks by Republican officials and conservative media, scrutiny expected to continue now that the GOP has taken over the House.

It also represents the latest salvo in the long-running laptop saga, which began with a New York Post story in October 2020 that detailed some of the emails it says were found on the device related to his foreign business dealings. It was swiftly seized on by Trump as a campaign issue during the presidential election that year.

The letter, signed by prominent Washington attorney Abbe Lowell, seeks an investigation into, among others, former Trump strategist Steve Bannon, Trump's longtime lawyer Rudy Giuliani, Giuliani's own attorney and the Wilmington computer repair shop owner, John Paul Mac Isaac, who received Biden's laptop in April 2019.

The letter cites passages from Mac Isaac's book in which he admitted reviewing private and sensitive material from Biden's laptop, including a file titled "income.pdf." It notes that Mac Isaac sent a copy of the laptop data to Giuliani's lawyer, Robert Costello, who in turn shared it with Giuliani, Trump's close ally, who at the time was pushing discredited theories about the younger Biden.