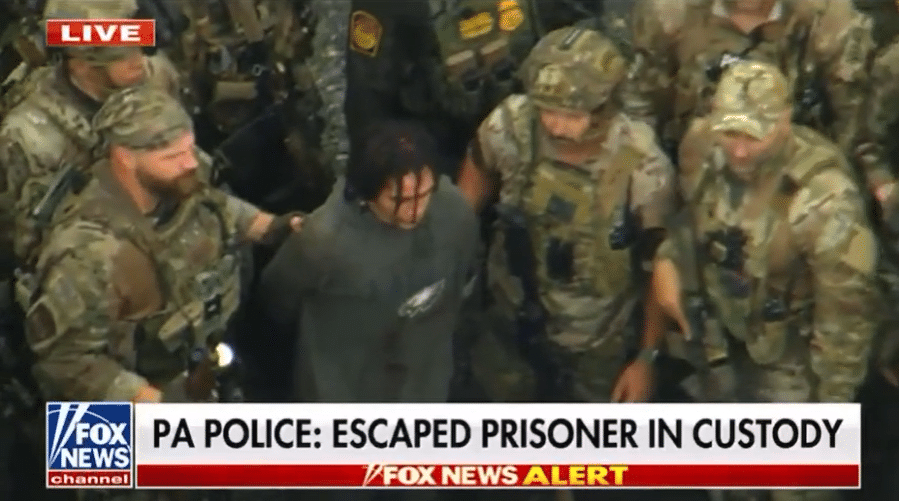 A dangerous illegal immigrant, Danelo Cavalcante, who was convicted of murder and recently scaled the walls of a prison in a shocking and inexcusable escape, has been captured after a two-week manhunt.
At the age of 34, Cavalcante, an illegal immigrant from Brazil, executed a daring prison escape on August 31st by "crab-walking" up a wall and navigating through razor wire.
Cavalcante was armed with a rifle that he stole from an open garage while he was on the run.
Watch:
BREAKING: Video of illegal alien murderer climbing up a wall to escape Chester County Prison in Pennsylvania

Danelo Cavalcante has now been at large for 10 days pic.twitter.com/mty7kAylse

— Jack Poso 🇺🇸 (@JackPosobiec) September 10, 2023
Back in August, Cavalcante received a first-degree murder conviction for the April 2021 killing of his 33-year-old girlfriend, Deborah Brandão. He was subsequently sentenced to life in prison without the possibility of parole. During his trial, Chester County District Attorney Deb Ryan provided a harrowing account of the events, detailing how Cavalcante brutally stabbed Brandão 38 times while her 7- and 4-year-old children witnessed the horrific act.
He is also wanted for the 2017 murder of his friend in Brazil.
On Wednesday morning, the Pennsylvania State Police made an announcement that they had successfully captured Cavalcante. The fugitive had managed to elude capture for 13 days in the vicinity of South Coventry Township in Chester County, approximately 30 miles west of Philadelphia. A bloodied Cavalcante, dressed in a worn Philadelphia Eagles sweatshirt and with filthy hair, was placed in handcuffs and escorted by law enforcement after he was found hidden in a wooded area, reportedly with the help of a K-9 unit.
Migrant killer Danelo Cavalcante sniffed out of bushes by K-9 unit. pic.twitter.com/ohboRoSGSw

— Citizen Free Press (@CitizenFreePres) September 13, 2023
BREAKING: How a dog helped capture convicted murderer Danelo Cavalcante, 34, who escaped from a Pennsylvania prison through the roof nearly two weeks ago.pic.twitter.com/RD7AEOUBKR

— Simon Ateba (@simonateba) September 13, 2023
The New York Post reported:
The fugitive reportedly complied with the investigators' orders when they stumbled upon him, CNN added.

As he was escorted to a van by a SWAT team, blood was seen dripping down his face, the result of a minor K9 bite wound during his capture, according to Lt. Col. George Bivens.

Footage showed the double murderer wearing a gray Philadelphia Eagles sweatshirt, which was cut off by officers, presumably to search for hidden weapons.

The investigators took pictures of his tattoos once his shirt was off, to confirm his identity, news station KYW-TV reported.
Watch Fox News' coverage of the capture:
BREAKING: Pennsylvania police capture Danelo Cavalcante, convicted killer who escaped from prison.

Fox forgot to mention that Cavalcante is illegal alien who brutally killed his his ex-girlfriend in front of her children.

Now think how many illegals just like him came to our… pic.twitter.com/i1qsjgG1BT

— I Meme Therefore I Am 🇺🇸 (@ImMeme0) September 13, 2023
When illegal immigrants, such as Cavalcante, are arrested for serious or violent crimes, ICE typically initiates the process of applying for an immigration detainer. This serves as the initial step toward deporting a criminal illegal immigrant to their country of origin. However, the extensive backlog of pending detainers has strained ICE's ability to execute them in all cases. In the 2022 fiscal year, ICE issued a total of 78,829 detainers for noncitizens with criminal backgrounds, encompassing 1,751 for homicide-related offenses, 1,911 for kidnappings, 2,934 for robberies, 8,450 for sex crimes, and 26,186 for assaults, as reported by the New York Times.