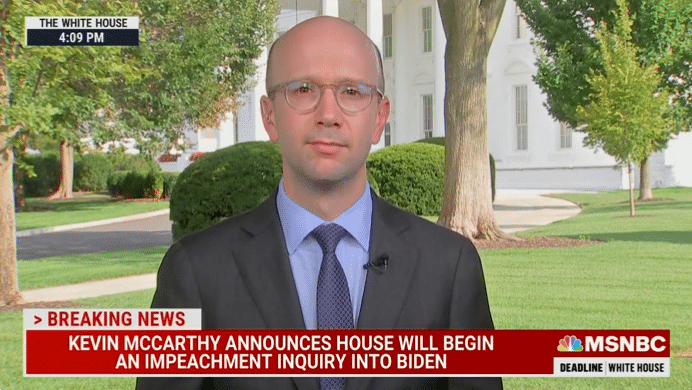 The White House legal office sent a letter on Wednesday to several mainstream media outlets, demanding that they "ramp up scrutiny of House Republicans" regarding the impeachment inquiry of Joe Biden, which they claim is "based on lies."
The letter from Biden's "scandal spokesman", Ian Sams, to the White House Counsel's office was initially brought to light on Tuesday night by CNN's Oliver Darcy.
BREAKING REPORT: Biden WH Writes Letter DEMANDING MEDIA NETWORKS 'Debunk' Impeachment Claims Against The President..

Special assistant to the president and senior advisor to the White House Counsel's Office Ian Sams has written a letter to be sent to the NY Times, CNN, AP and… pic.twitter.com/JI8x81zpAn

— Chuck Callesto (@ChuckCallesto) September 13, 2023
Here's an excerpt:
"It's time for the media to ramp up its scrutiny of House Republicans for opening an impeachment inquiry based on lies," Ian Sams, a spokesperson for the White House Counsel's Office, wrote in the letter, according to a draft copy obtained by CNN.

The letter, which said an impeachment inquiry with no supporting evidence should "set off alarm bells for news organizations," will be sent to executives helming the nation's largest news organizations, including CNN, The New York Times, Fox News, the Associated Press, CBS News, and others, a White House official familiar with the matter said.

…

"And in the modern media environment, where every day liars and hucksters peddle disinformation and lies everywhere from Facebook to Fox, process stories that fail to unpack the illegitimacy of the claims on which House Republicans are basing all their actions only serve to generate confusion, put false premises in people's feeds, and obscure the truth," Sams added.
Newsmax's Logan Ratick posted a copy of the letter on X:
The White House sent this letter to media organizations yesterday, telling them: "It's time for the media to ramp up its scrutiny of House Republicans for opening an impeachment inquiry based on lies." pic.twitter.com/OqREjfGV7P

— Logan Ratick (@Logan_Ratick) September 13, 2023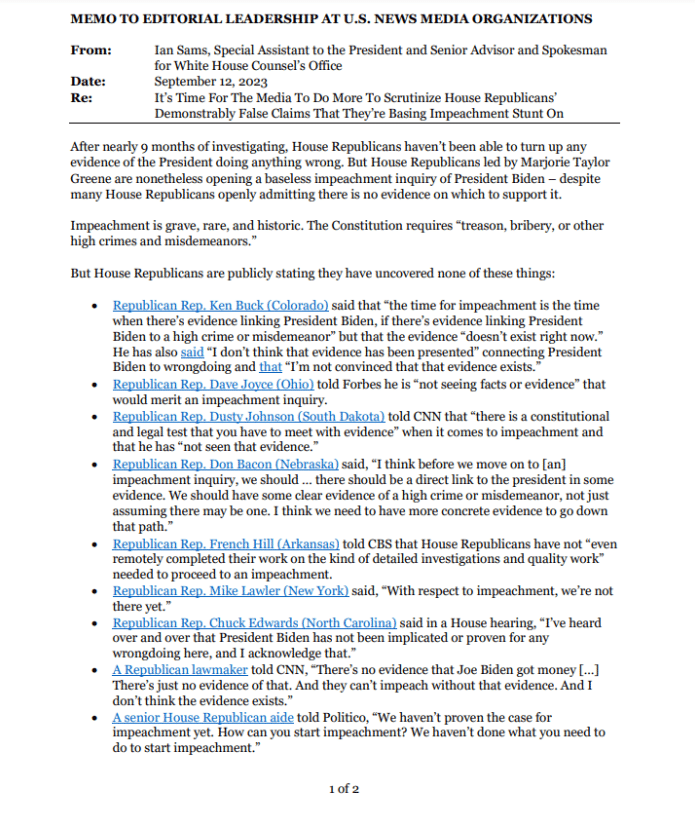 Efforts led by prominent GOP figures like House Oversight Committee Chair James Comer (R-KY) and House Judiciary Committee Chair Jim Jordan (R-OH) have uncovered that Joe Biden had numerous meetings with individuals who paid his family members millions of dollars to gain access to influential circles in Washington. Among these companies, Burisma Energy in Ukraine stands out, as it benefited from Biden's involvement in the dismissal of a local prosecutor who was investigating the company for alleged government corruption. Viktor Shokin, the prosecutor in question, has since come forward to assert that then-Vice President Biden orchestrated the action.
Additional credible evidence includes communications between Hunter Biden and officials from the Biden Office of the Vice Presidency concerning the coordination of statements to the media following reports of federal investigations into Hunter's alleged unlawful business activities. Representative Comer has demanded that the National Archives hand over all records related to various anonymous accounts employed by Joe Biden for these communications.
On Tuesday, Ian Sams made an appearance on MSNBC to criticize the impeachment inquiry, saying that it is "not rooted in the truth":
Watch:
Delusional Biden spokesman Ian Sams says an impeachment inquiry into Joe Biden is "not rooted in the truth," then instructs the press to "hold them accountable" pic.twitter.com/PI5HlLWEK9

— RNC Research (@RNCResearch) September 12, 2023