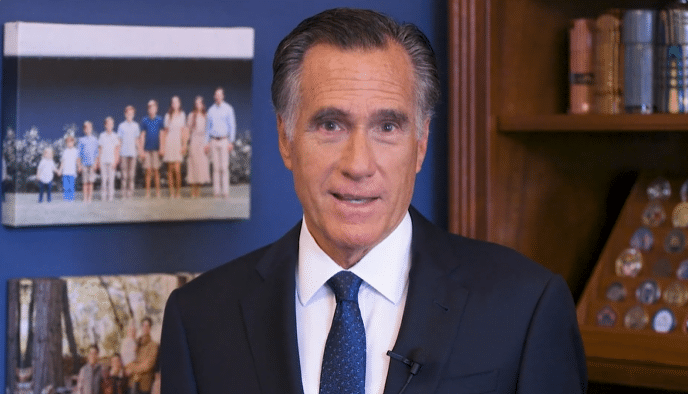 On Wednesday, Senator Mitt Romney (R-UT) announced that he will not seek reelection.
At 76 years old, Romney is currently serving his first term as Senator, having been elected in 2018. He previously ran as the Republican presidential nominee in 2012, following an unsuccessful bid in 2008. Despite having a strong chance, he lost to Barack Obama in that race. Romney also served one term as the governor of Massachusetts from 2003 to 2007. He affirmed his commitment to completing his Senate term, which concludes in January 2025.
Romney made the announcement in a video posted on X.
"At the end of another term, I'd be in my mid-80s. Frankly, it's time for a new generation of leaders," Romney said. "They're the ones that need to make the decisions that will shape the world they will be living in. Now, we face critical challenges, mounting national debt, climate change, and the ambitious authoritarians of Russia and China."
Watch:
My message to Utahns on my Senate reelection plan: pic.twitter.com/kgbsfIxMeR

— Senator Mitt Romney (@SenatorRomney) September 13, 2023
According to a recent poll reported by the Deseret News, Romney's approval rating had increased recently:
The number of Utah Republicans who say they approve of Sen. Mitt Romney's performance has jumped dramatically over the past few months, according to a new poll. The poll also shows growing support for a second run for Utah's junior senator, who is up for reelection in 2024.

The poll includes another question on who Utahns would vote for in a possible 2024 Republican primary, with Romney coming out ahead of challenger Trent Staggs, the mayor of Riverton who is campaigning to the right of Romney, and Utah Speaker Brad Wilson, who is exploring a run for the seat.

…

Poll numbers from May showed Romney had some vulnerability among Republican voters, which could mean a struggle in a Republican primary.

But Romney's job approval among Utah Republicans shot up over the summer, from 40% in May to 56% in August. Romney still struggles with self-described "very conservative" voters, with almost half saying in the August poll they strongly disapprove of his job performance, but did better among "moderate" and "somewhat conservative" voters.

Meanwhile, 54% of all Utah voters said they strongly or somewhat approve of Romney's performance.

The poll was conducted Aug. 7-14 of 803 registered Utah voters by Dan Jones & Associates, and has a margin of error of plus or minus 3.46 percentage points.
Despite this, according to the Salt Lake City Tribute, the GOP wanted Romney to retire:
The reality he is facing, then, is pretty straightforward. There is no way a Democrat will pose a threat to him if he can get the GOP nomination. In fact, Democrats and independents have a better impression of him overall and are more supportive of another run than Republicans.

But that doesn't matter if Romney can't get the nomination. Only 36% of Utah Republicans say he should run again.
Romney has been one of the most outspoken critics of President Trump within the Republican Party, even voting for Trump's conviction in both of his impeachment trials.
President Trump celebrated the news in a post on Truth Social.
FANTASTIC NEWS FOR AMERICA,THE GREAT STATE OF UTAH, & FOR THE REPUBLICAN PARTY. MITT ROMNEY, SOMETIMES REFERRED TO AS PIERRE DELECTO, WILL NOT BE SEEKING A SECOND TERM IN THE U.S. SENATE, WHERE HE DID NOT SERVE WITH DISTINCTION. A BIG PRIMARY FIGHT AGAINST HIM WAS IN THE OFFING, BUT NOW THAT WILL NOT BE NECESSARY. CONGRATS TO ALL. MAKE AMERICA GREAT AGAIN!
President Trump wasn't the only one celebrating after hearing the news.
Mitt Romney just announced that he will NOT seek re-election.

GLORIOUS!

— Ryan Fournier (@RyanAFournier) September 13, 2023
MAGA has ousted Paul Ryan, Ben Sasse, Adam Kinzinger, Liz Cheney and soon Mitt Romney from Washington, DC

This is what winning looks like pic.twitter.com/idrykwSMIs

— johnny maga (@_johnnymaga) September 13, 2023
The best news I heard today! Cya Mitt Romney. Another Establishment hack that MAGA took outpic.twitter.com/LamtSA4yFQ

— MAGS (@TAftermath2020) September 13, 2023
Mitt Romney spent the last 20 years in politics—as a one-term governor, a one-term senator, and a twice-defeated presidential candidate—and his only lasting accomplishment of note is that he gave Barack Obama the blueprint for how to destroy the American healthcare system.

— Sean Davis (@seanmdav) September 13, 2023