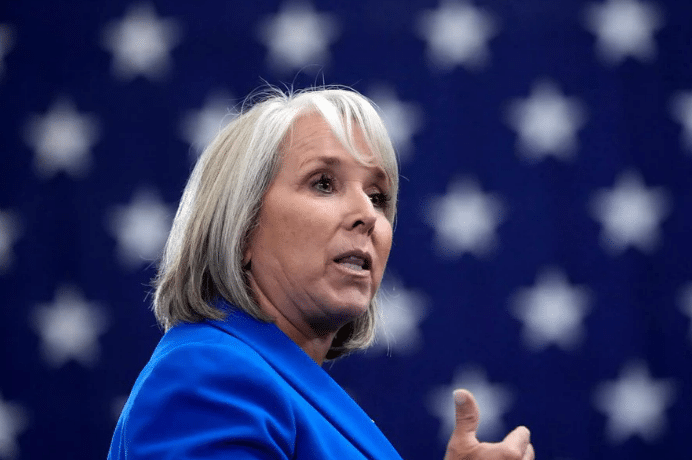 New Mexico's Democrat Governor faced another setback after she unilaterally suspended the Second Amendment in Albuquerque.
A Biden-appointed federal judge issued a temporary restraining order against Governor Michelle Lujan Grisham's "pause" on the second amendment, effectively blocking her gun grab.
The temporary restraining order will remain in effect until October 3rd, when another hearing is slated to take place.
Reuters reported:
A federal judge in New Mexico on Wednesday issued a temporary restraining order against state Governor Michelle Lujan Grisham's ban on carrying guns in Albuquerque and its surrounding county, on grounds it violated the U.S. constitution.

U.S. District Court Judge David Urias said the governor's 30-day suspension of concealed and open firearm carry rights went against recent U.S. Supreme Court rulings and violated the rights of law-abding citizens to defend themselves.
On Thursday, in response to the tragic shooting deaths of a thirteen-year-old girl on July 28, a five-year-old girl on August 14, and an eleven-year-old boy on September 6, Governor Michelle Lujan Grisham declared gun violence a public health emergency.
On Friday, she took the unprecedented action of "suspending" gun rights in Albuquerque, the state's largest city, with the potential for other cities to adopt similar measures.
According to the press release, "The action plan includes a suspension of open and concealed carry laws in Bernalillo County, temporarily prohibiting the carrying of guns on public property with certain exceptions. Exceptions include for licensed security guards and law enforcement officers. Citizens with permits to carry firearms are free to possess their weapons on private property (such as at a gun range or gun store), provided they transport the firearm in a locked box, use a trigger lock, or some other mechanism that renders the gun incapable of being fired."
Grisham has found herself with little support after her unilateral suspension of the Second Amendment in Albuquerque.
Grisham made an appearance on CNN to answer questions about her order.
During the interview, CNN host Poppy Harlow directly asked Grisham where she has the authority to suspend the Second Amendment. Grisham was clearly surprised by the pushback from CNN.
Grisham was visibly taken aback when Harlow proceeded to read the New Mexico Constitution live on-air.
Watch:
New Mexico Governor @GovMLG joined me this morning for her first national televised interview since she declared a public health emergency and announced a 30-day ban on carrying guns in public. pic.twitter.com/u9ar8EODU1

— Poppy Harlow (@PoppyHarlowCNN) September 12, 2023
Gun owners gathered on Sunday in Old Town, Albuquerque, boldly carrying guns, both openly and concealed, shouting, "We will not comply!"
New Mexico's Democrat Attorney General, Raul Torrez, informed Grisham on Tuesday that he will not defend her in the lawsuits that arise due to her illegal order.
Torrez admonished Grisham for her unilateral decision to suspend gun rights.
"However, I encourage you to engage in a more thoughtful and deliberative process with members of the New Mexico Legislature rather than taking unilateral action that infringes on the constitutional rights of law-abiding citizens while having little if any discernible impact on the underlying dynamics driving gun violence in our community," Torrez wrote.
The National Association for Gun Rights, along with Albuquerque resident Foster Haines, has filed a lawsuit against Grisham and other state officials in response to her illegal order.
On Saturday, in response to Grisham's unconstitutional order, State Reps. Stefani Lord and John Block called for her impeachment.
Sheriff John Allen, who serves Bernalillo County north of Albuquerque, declared that he will not comply with Grisham's order, saying that it violates her oath and is "illegal in nature."
From the Bernalillo County Sheriff's office:
Today, Governor Michelle Lujan Grisham issued an emergency order temporarily suspending open and concealed carry laws in Albuquerque and throughout Bernalillo County for the next 30 days. This move has been positioned as a response to the alarming and tragic rise in gun violence, particularly the heart-wrenching death of an 11-year-old boy this past week.

First and foremost, every lost life is a tragedy, and the well-being of our community is of paramount concern to the Bernalillo County Sheriff's Office. We share in the collective grief and urgency to address this issue.

However, as the elected Sheriff, I have reservations regarding this order. While I understand and appreciate the urgency, the temporary ban challenges the foundation of our Constitution, which I swore an oath to uphold. I am wary of placing my deputies in positions that could lead to civil liability conflicts, as well as the potential risks posed by prohibiting law-abiding citizens from their constitutional right to self-defense.

I was elected to represent and safeguard all constituents and to ensure the balance between our rights and public safety is maintained. That means we must critically evaluate any proposed solution to the deeply rooted issue of gun violence, ensuring we both protect our community and uphold the values that define us as a nation.

To proactively address gun violence, the Bernalillo County Sheriff's Office has implemented and is currently executing several initiatives:

1. ERPO (Extreme Risk Protection Orders) – Identifying and addressing threats before they escalate.

2. Behavioral Health Unit – Addressing underlying mental health issues that often intersect with violent incidents.

3. Youth and Gun Violence Initiative – Focused programs to curb youth involvement in gun-related crimes.

4. Felon Firearm Possession Intervention – Targeting felons illegally in possession of firearms.

5. Crime Commission Initiative – Zeroing in on cases where firearms are used in the commission of crimes.

6. Interagency Collaboration – Partnering with State, Local, and Federal entities to create a unified front against gun violence. 

7. Creation of a Violence Intervention Program – Intervening in gun violence before crimes happen through intel and inter-agency collaboration.

In conclusion, while we might not be in complete alignment with the Governor's recent order, we remain steadfast in our commitment to work collaboratively, both with her office and with the community, to find sustainable solutions to the gun violence epidemic plaguing our county. It is through robust dialogues, open-mindedness, and the shared goal of a safer Bernalillo County that we will find our way forward.

Thank you for your understanding and continued support.

Sheriff John Allen Bernalillo County Sheriff's Office