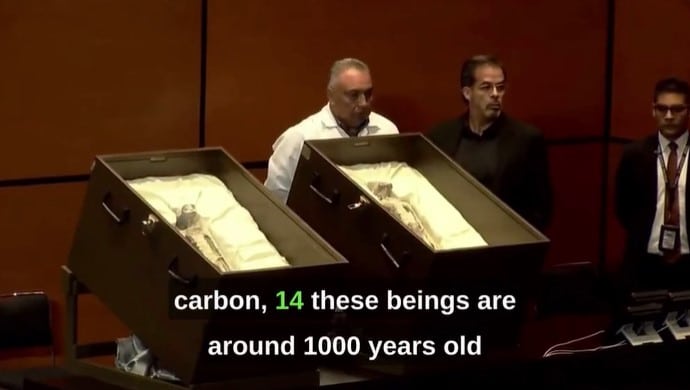 A group of scientists has presented what they claim are mummified extraterrestrial remains to the Mexican government during its first hearing on Unidentified Flying Objects (UFOs).
They claim to have discovered these bodies in a collapsed mine and have subjected them to a battery of tests. Furthermore, they are inviting the Mexican government to conduct additional examinations on the specimens.
Per the scientists, these bodies could potentially be more than 1,000 years old.
According to Fox News, it was reported that the alleged bodies were unearthed in mines located in Cusco, Peru, and were found to be fossilized within a layer of "diatomaceous earth or ancient phytoplankton algae," a substance known for its antifungal and antibacterial properties.
Mexican journalist and self-described ufologist Jaime Maussan highlighted that the non-human specimens had recently undergone examination at the Autonomous National University of Mexico (UNAM), resulting in DNA evidence obtained through radiocarbon dating.
It remains to be determined whether these specimens are genuinely of extraterrestrial origin or if it is an elaborate hoax.
Below, you can find a video featuring their analysis with English subtitles.
🚨 ATTENTION – Closer look into the Alien Bodies that the Mexican Government has unveiled to the public and the tests that has been carried out on them

[With English Translation]#Ovni #Mexico #OvniMexico #Mexican #Alien #UFO #UAP #Aliens #Conspiracy #Uaphearins #UFOHearings… pic.twitter.com/dfMm8dLSCp

— T R U T H P O L E (@Truthpole) September 13, 2023
BREAKING: Alleged mummified alien corpses displayed at Mexico's Congress today, suspected to be 1,000 years old.

UFO enthusiasts celebrated a remarkable event today in Mexico City's Congress, led by journalist and ufologist Jaime Maussan. This official gathering unveiled two… pic.twitter.com/Mba2hDpQ0C

— KanekoaTheGreat (@KanekoaTheGreat) September 13, 2023