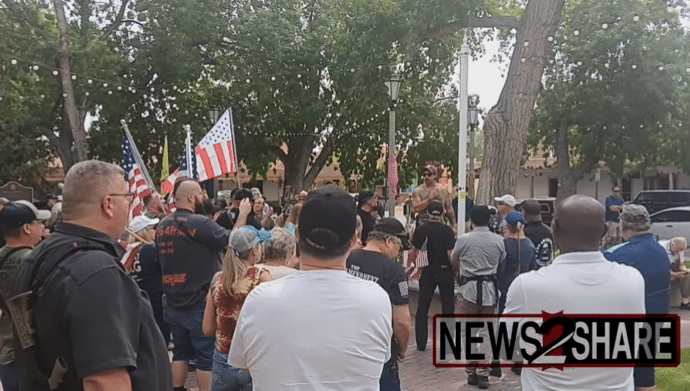 Gun owners in New Mexico gathered on Sunday in Old Town, Albuquerque, boldly carrying guns, both openly and concealed, sending a clear message to Governor Lujan Grisham that they refuse to comply with her unconstitutional executive order.
As reported by Ford Fischer, a journalist on the scene, there was no police intervention, and nobody was fined $5,000 for violating the order.
"This will not stand! We will not comply!" a speaker shouted.
Watch:
2) One speaker at the armed rally in Albuquerque defying the gun carrying ban told the crowd that they need to go out and do this every day, or else it wouldn't have an impact.

While the police didn't enforce the order, it includes a $5000 fine for violators. pic.twitter.com/dNiEYdWRtt

— Ford Fischer (@FordFischer) September 10, 2023
On Thursday, New Mexico Governor Michelle Lujan Grisham declared a public health emergency over "gun violence" on Thursday, following the death of an 11-year-old boy. On Friday, she took the unprecedented action of "suspending" gun rights in Albuquerque, the state's largest city, with the potential for other cities to adopt similar measures.
Under this public health emergency, open and concealed carry laws in Bernalillo County have been temporarily suspended, effective immediately. The move is a direct infringement on law-abiding citizens' Constitutional right to bear arms.
Gun rights, which include open and concealed carry laws, cannot be arbitrarily "suspended" by a governor, not even under the pretense of an "emergency". If allowed to stand, it could set a dangerous precedent where any right could potentially be undermined by the state as long as an emergency declaration is issued.
On Saturday, in response to Grisham's unconstitutional order, State Reps. Stefani Lord and John Block called for her impeachment.
The National Association for Gun Rights, along with Albuquerque resident Foster Haines, has filed a lawsuit against Grisham and other state officials in response to her emergency order, which bans the carrying of firearms in Albuquerque.
In reaction to Grisham's illegal order, Sheriff John Allen, who serves Bernalillo County north of Albuquerque, declared that he will not comply with the order.