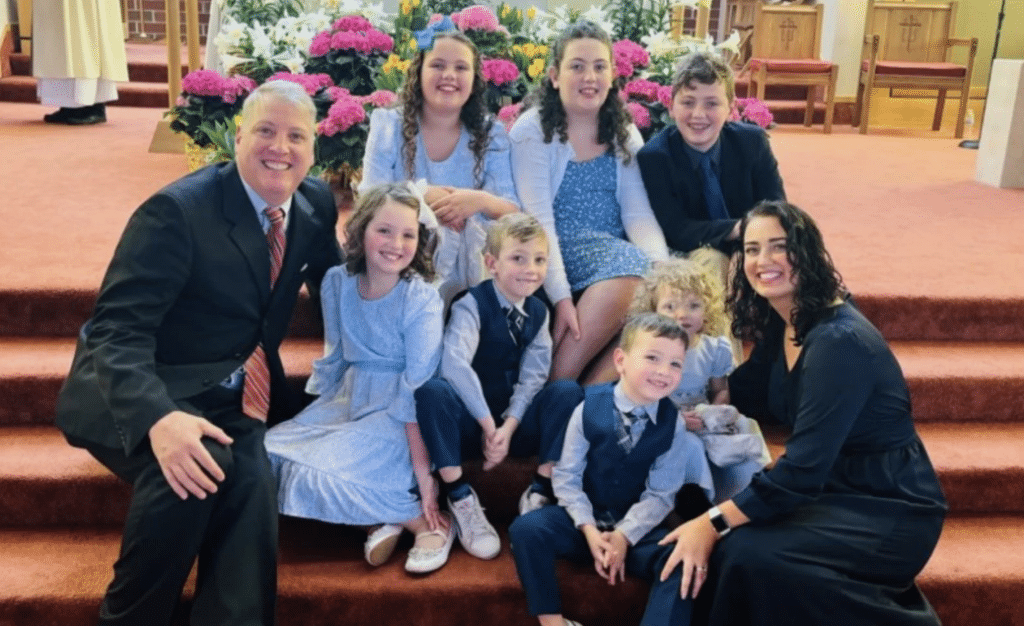 On Monday, Catholic pro-life activist Mark Houck was found not guilty on both counts of violating the federal Freedom of Access to Clinic Entrances (FACE) Act.
Mark Houck was charged with two counts of violating the FACE Act for shoving a pro-abortion volunteer who threatened his son outside of a Planned Parenthood in Philadelphia in October, 2021.
The FACE Act prohibits "violent, threatening, damaging, and obstructive conduct intended to injure, intimidate, or interfere with the right to seek, obtain, or provide reproductive health services."
Mark Houck is a Catholic father of seven children and often prays outside of abortion clinics.
Mark Houck awoke to a nightmare early in the morning on September 23, 2022, when around 25 to 30 armed FBI agents banged on his front door nearly breaking it down.
As the FBI agents were banging on Houck's front door, he said to them, "Please I have seven babies in the house. I'm going to open the door."
The FBI proceeded to charge into their house with guns pointed at them and their children and took Houck away on the garbage charges.
The jury was deadlocked and had to reconvene on Monday, when they finally were able to reach a verdict: Not guilty on both counts.
WFMZ reported:
The jury has reached a verdict in the case of Mark Houck, the pro-life activist from Bucks County accused of violating the federal FACE Act when he pushed and injured a patient escort outside a Planned Parenthood in Philadelphia.

The jury found Houck not guilty of two counts of violating the Federal FACE Act Monday.

Federal prosecutors said Houck violated the Freedom of Access to Clinic Entrances (FACE) act. That law makes it illegal to interfere with the job of a reproductive healthcare worker.

To find Houck guilty, the government needed to prove three things beyond a reasonable doubt:

– that Houck intentionally pushed Love, causing him bodily injury.

– that Houck interfered with Love's job as a reproductive healthcare worker.

– that Houck attacked Love specifically because he is a reproductive healthcare worker.

Houck's attorneys had said it was Houck and his son being harassed by Love, with Houck defending himself and his son.
U.S. Rep. Chip Roy, R-Texas, celebrated the news of Houck's acquittal with the following tweet. 
"Good. Begs question of the $48 billion we give to DOJ…"
Shortly after Houck's arrest last fall, his attorney Peter Breen told FOX News Digital that his client's arrest was an "outrageous abuse of power" from the Department of Justice that was intended to intimidate pro-life Americans.
"The message from the Biden Department of Justice is pure intimidation against pro-life people and people of faith," said Breen, senior counsel of the Thomas More Society. "Why in the world would you send this phalanx of officers heavily armed to this family's home, violate the sanctity of their home, frighten their children? Why would you do that, other than just to send a message?