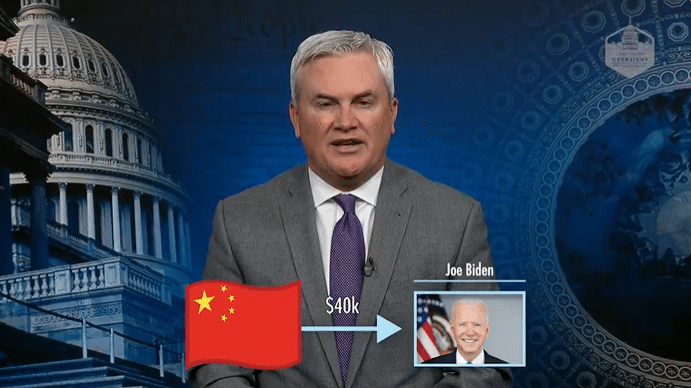 House Oversight Committee Chairman James Comer (R-KY) presented a strong case against Joe Biden and his family, alleging that they channeled millions of dollars from a company connected to the Chinese Communist Party through "shady" companies, with a portion of these funds eventually making their way into Biden's personal bank account.
Rep. Comer detailed the sequence of events and financial transactions in a video shared on X Wednesday. In the video, he claimed that Hunter Biden put pressure on a Chinese company to pay his own company $10 million, under the threat of potential consequences from then-Vice President Biden.
On Wednesday, House Oversight Committee Chairman James Comer said Joe Biden received $40,000 in "laundered China money" from the bank account of his brother and his sister-in-law in 2017.
These findings come after Rep. Comer issued subpoenas for personal and business bank records belonging to James Biden and Hunter Biden, which were integral to his investigation into the Biden Crime Family.
Comer said Biden "benefited from his family's shady deal" with Chinese Communist Party-linked CEFC.
Watch:
🚨 BREAKING 🚨

We've followed the money and identified how Joe Biden received $40,000 in laundered 🇨🇳 China money.
@RepJamesComer lays out the money trail. 👇 pic.twitter.com/lH69OUOHid

— Oversight Committee (@GOPoversight) November 1, 2023
From Fox News:
"Remember when Joe Biden told the American people that his son didn't make money in China? Well, not only did he lie about his son Hunter making money in China, but it also turns out that $40,000 in laundered China money landed in Joe Biden's bank account in the form of a personal check," Comer said. "And the Oversight Committee has it."

Comer said the "money trail" began in July 2017 when Hunter Biden demanded a $10 million payment from a CEFC associate. In a WhatsApp message, he claimed "he was sitting with his father and that the Biden network would turn on his associate if he didn't pony up the money," Comer explained.
November 1, 2023
As Breaking Digest previously reported, in a WhatsApp message, Hunter Biden told Henry Zhao, a Chinese business associate linked to the Chinese energy company CEFC, that both he and his father would "destroy" Zhao unless prompt payments to the Bidens were arranged.
Hunter requested the $10 million wire transfer for his joint venture with CEFC, known as SinoHawk Holdings.
I am sitting here with my father and we would like to understand why the commitment made has not been fulfilled. Tell the director that I would like to resolve this now before it gets out of hand, and now means tonight. And, Z, if I get a call or text from anyone involved in this other than you, Zhang, or the chairman, I will make certain that between the man sitting next to me and every person he knows and my ability to forever hold a grudge that you will regret not following my direction. I am sitting here waiting for the call with my father.
Zhao responded, in part, "CEFC is willing to cooperate with the family."
In his video, Comer said the Hunter's "extortion scheme worked", noting that just days later, a $5 million payment was made from a Chinese affiliate of CEFC.
"In taking funds sourced to a CCP-linked company that wanted to advance China's interests, Joe Biden exposed himself to future blackmail and put America's interests behind his own desire for money," Comer said, vowing to "continue to follow the money" and to "hold President Biden accountable for his corruption."
In 2020, Joe Biden declared that his family had never received money from China, a statement that has since been debunked by the House Oversight Committee's thorough examination of bank records and emails retrieved from Hunter's laptop. These records revealed instances of Joe Biden engaging in personal communication with Chinese executives, including phone calls, visits, and even a letter of recommendation for one individual's daughter.
House Speaker Mike Johnson (R-LA) is anticipated to revive the impeachment inquiry into Biden. Despite mounting evidence and testimonies to the contrary, Joe Biden has consistently denied any involvement in his family's business affairs. A significant majority of the American population believes that Joe Biden had some level of involvement in these matters.